Vertical farms get smarter
By Karen Smith
In 2008, Dickson Despommier, then a Professor of Public Health at Columbia University, in collaboration wrote an article describing the concept of the vertical farm. His view of the vertical farm grafted together everything available from greenhouse technology to NASA biosphere control systems, into a high-rise construction that is a functional part of the urban system itself. The catalyst for this dynamic shift, in his view, was the ruinous effect of farming on the environment, and the loss of fresh water and arable land as the world population increased.
High-rise farming is yet to become a commercial reality in world cities, but the effects of agriculture are increasingly apparent. Greenlife Industry Australia (GIA) has joined with other organisations such as Growcom and AUSVEG, and corporations such as Hitachi, in a Smart Farming Partnership designed to have a positive impact on the environment. Smart farming uses a raft of remote data monitoring points, collecting information from all aspects of the farming process. The collected data is collated by a central computer where the information can be turned into actions. Unlike human control systems, the computer system works best when there is a lot of data, improving decision making, production efficiencies, and optimising expensive labour. Greenlife Industry Australia have established a pilot 'smart farm' production nursery in an environmentally vulnerable region in the Great Barrier Reef catchment. This project concludes at the end of 2023, but GIA expects to publish interim findings during the life of the project.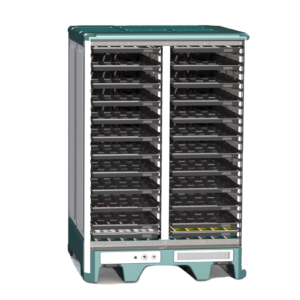 The falling cost of technology and the rise of 'smart' systems for monitoring resources such as water and fertiliser, improve efficiency and lower production costs but the availability of resources such as fresh water and land, will reduce and become more expensive. Protected cropping systems or greenhouse horticulture is popular in Europe and parts of the USA, providing protection from weather extremes and protection from pests and disease. Controlled environment horticulture (CEH) takes this to the next level and combines high technology greenhouses with soil-less growing systems. Divorcing horticulture from the natural environment makes consistent and reliable control of the growing environment possible, although at a cost. Improvements in control systems, and especially the developments in lighting technology, have increased the viability of CEH.
If you attended the IPPS conference in 2019 on the Sunshine Coast you may remember John Leslie from Vertical Farm Systems. He described their growing system using 'climate cells' and kiln-fired clay pebbles as the growing medium. The clay pebbles were coated with beneficial microbes to assist plant growth. This system stacked the cells up to eight high in a warehouse environment. The production was controlled by a single operator. Similar systems are becoming more common. Singapore has a target of 30% of food grown locally by 2030. This has meant a significant investment in CEH and vertically integrated systems. The United Arab Emirates, with very low rainfall and poor soil conditions, is also investing heavily in vertical farming. Emirates Flight Catering, in a joint venture, is investing in a system to produce pesticide-free crops for feeding passengers of Emirates and other airlines at Dubai's Al Maktoum International Airport.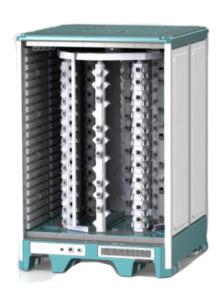 Some supermarkets in European cities, Berlin and Copenhagen for example, have brought the 'farm to the consumer. Infarm is one example of a company that has installed their growing system in supermarket aisles. The crops are harvested in-store and company-employed 'farmers' replant the next crop. The farm units are only opened by company employees.
Dickson Despommier, author of "The Vertical Farm" and professor emeritus of public and environmental health at Columbia University, says "I want to know who's the most efficient and who's producing the (widest) diversity of plants that people actually eat, rather than just leafy green vegetables – which is what seems to be the gold standard right now for actually jumping off from non-profitability to profitability."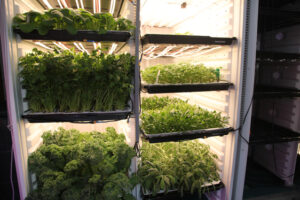 As stated, the main profitable crops are leafy greens, as growing fruiting crops such as strawberries could be tricky, especially getting pollinators to cooperate. I'm sure you will not see an apple tree growing in a vertical farm unless technology leaps forward.
A Sydney start-up business called InvertiGro, has developed indoor farming technology in the form of a sealed cube 2m high by 1.5m square. The unit has a maximum loaded weight of 500kg and is designed to operate near the kitchen door, bringing the growing as close to consumption as possible. Apart from the obvious users such as fresh produce retailers, designers of the cube see installations for catering and food services associated with hospitality venues, hospitals and aged care facilities, as a growth area. The system is designed to offer flexible growing conditions, making it suitable for a wide range of plants. Small modular systems that are compatible with standard pallet racking and machine handling equipment make it easy, efficient and cost-effective for users to scale up production by adding extra cubes as the need arises. The cube is essentially a self-contained, automatically controlled hydroponics unit. Sensors and a computer-controlled system, maintain growing conditions and lighting for the optimal production of whatever crop is planted in the cube. The team at Invertigro have developed optimised grow recipes for a wide range of crops, including Australian native bush tucker.
Although most InvertiGro systems are used to grow edibles, they could also germinate seed or accelerate the growth of cuttings, under ideal, controlled conditions, ready to be potted on. Starting a crop, whatever it is, with healthy plants, will deliver a better crop in the long term.