Guava – tropical or temperate?
By Clive Larkman
The word guava tends to lean toward tropical fruits along with pineapples, mangos and paw-paws but are they really tropical? They are usually grown in the tropics and when we visit a resort or restaurant in those regions, we can be sure to find them on the menu.
The common names give an indication of the range of flavours and shapes: Strawberry Guava, Cherry Guava, Pineapple Guava, Hawaiian Guava, Chilean Guava, Yellow Guava, White Guava and 'The Guava'. They all come from large shrubs, or small to medium trees which prefer sub-tropical to tropical climates, although most will grow well in frost-protected areas in cool temperate zones. Guava are in the Myrtaceae Family and have small roundish fruits with thin skins and soft flesh. The seeds are small and edible and all have a sweet, 'fruity' taste. It is this similarity in form and flavour that has carried the name across so many plants. It is thought to be an adaptation of the Spanish word Guayaba, which is in turn an adaption from the word Guayabo. This is a term from several Central American languages that means 'Guava Tree'.
The namesake is the Guava which is the most tropical of them all, and has the Latin name Psidium guajava. It originates from that giant food bowl of Central America and Northern South America. It is widely cultivated around the tropical regions of the world and there are records of cultivation going back 4500 years. It has several common names like Apple Guava, Pink Guava and Tropical Guava. As it has spread around the world, it has evolved into many cultivars which have then picked up their own common names: Hawaiian Guava, Indian Guava, Thai White Guava and Mexican Cream Guava. They all produce small to medium sized fruit that have a thin, light green skin and soft sweet flesh that varies from white through cream to red. Their flesh is soft and creamy and the flavours are often described as 'like another fruit', e.g., strawberry or pineapple etc. This is fair, and I prefer the description 'soft, creamy and fruity' as it reflects the opulence of the taste.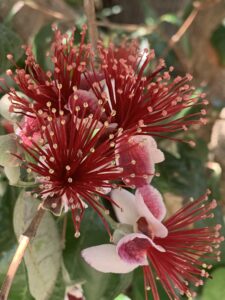 Some of the other popular forms include Psidium littorale and Psidium littorale var. longipes which used to be called Psidium cattleianum. The common name is Strawberry or Cherry Guava. The fruit is quite small and looks like hardened cherries but tastes like strawberries with a subtle citrus overtone. They can be eaten fresh or made into jam and are high in Vitamin C but not high in calories. They fruit in late autumn to early winter and the bush is an attractive garden plant which can be grown as a small hedge, topiary or free-standing shrub. It is high-yielding, so it really is a must for any home garden.
Another common variety is the Chilean Guava (separate genus/species) or Myrtus ugni. Like Strawberry Guava it has small, intense fruit in late autumn. The fruit is produced in reasonable numbers in late autumn and can be eaten fresh or cooked. It has many of the flavour overtones of the other varieties, likes part to full shade and will tolerate moderate frosts. Again, it is an attractive shrub for the home garden that makes a good hedge or stand-alone shrub, providing late summer colour with pretty white flowers and a fresh garden snack in autumn and winter.
There are several other varieties, some that are quite rare and almost extinct in the wild. There is the other common guava, Pineapple Guava or Feijoa with the Latin name Acca sellowiana (Syn. Feijoa sellowiana). In temperate Australia, this would have to be the most widely grown guava and it is becoming more and more popular. During the fruiting season, many greengrocers will stock locally grown fruit. It is quite common in garden centres, although these are usually seed grown and can take over five years to fruit. Commercial cultivars are available that have been selected for the size of the fruit. Romantic Nursery has a cultivar called 'Wandin Whopper' that will be available in limited numbers during mid-2022. The standard fruit is around 6cm long by 4cm wide, and 'Wandin Whopper' is close to 12cm long and very sweet. Feijoa is also an attractive garden shrub to 3m tall with pretty, deep red flowers in mid-spring with olive-green foliage.
Overall, whichever guava hits your taste buds, you can be sure it will be full of flavour and is worthy of a spot in the garden. For frost-free areas, use one of the more tropical varieties and for other areas use one of the cool temperate types. Once established, they all grow well, have pretty flowers and produce ample fruit which is full of vitamins and excellent for juicing.