New beginnings for the former Pentridge Prison with new public Piazza
The former Pentridge Prison in the northern Melbourne suburb of Coburg has undertaken a transformation, turning a decommissioned landmark of controversial history into a new residential and retail precinct.
"ASPECT Studios is dedicated to transforming brownfield sites in our inner cities into thriving new communities, that also protect and value their past lives and the deep histories of places and people," said Kirsten Bauer, Landscape Architect and Director of ASPECT Studios.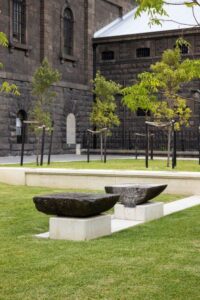 The prison operated for almost 150 years before officially closing in 1997, and during that time was the main remand centre for the Melbourne metropolitan area.
Pentridge's long-serving role as a prison, housing some of Australia's most infamous criminals, infused the site with challenging narratives, making it essential to have an innovative approach to interpretation and a considered response to the emotional and traumatic place it holds in many hearts and minds.
ASPECT Studios collaborated with NH Architecture on the original master plan that gained approval from Heritage Victoria, and have subsequently completed the main part of the development of 'Pentridge Coburg' alongside Sue Hodges Productions (SHP) and PTA Landscapes, allowing the opportunity to build on the history of Pentridge, as well as being part of its future.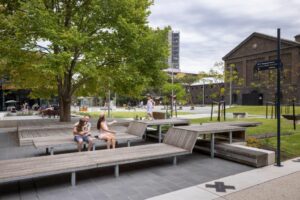 The depth of the site's cultural significance guided its redevelopment, where considered design elements recognise the history entrenched at Pentridge. The monumental size and classical style of the nineteenth century buildings contribute to their architectural significance, making it vital to acknowledge the importance of the sites past whilst making room for new beginnings.
ASPECT Studios sought to find a balance between the significant and dark history of the site, its heritage fabric and the need to create a new contemporary square that was welcoming for the community.
Positioned in the heart of the precinct, in what used to be the parade ground or mustering yard, the new Central Piazza sits between the heritage-protected bluestone buildings and next to the new retail centre and cinema designed by architects the Buchan Group. The spatial arrangement of the Central Piazza reflects the area that was once used as a prisoner parade and assembly ground, and the entry and arrival sequence from Champ Street has been reflected in the ceremonial entrance to the Piazza