By Gabrielle Stannus
A recent conversation with Christian Hampson from Yerrabingin got me thinking about the challenges and opportunities associated with growing edible species, including bush tucker, in inner-city buildings.
Christian Hampson, a Woiwurrung and Maneroo man, is co-founder of Yerrabingin, a design practice interweaving collaborative design thinking and indigenous knowledge. Whilst keen to include edible native plant species in his landscape designs, Christian is very mindful that the needs of pollinators must be factored into planning, if food plants are to bear fruit.
Together with the local Aboriginal community, Christian and his team are co-designing the internal and external layout of a new tech hub at 477 Pitt Street in central Sydney. This hub will include a 'wellness centre' for staff. A large terrace on the second level will connect with internal office space and include a range of edible and fragrant species in its landscaping, both outside and as it transitions indoors. "On the first floor we are making what we are calling a pollinator step. It will have this hanging edge garden and there will be lots of pollinators," says Christian, adding that the building's proximity to Belmore Park should help to draw pollinators up.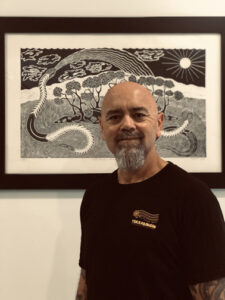 Christian is also creating an edible garden using wicking beds on the tenth floor of the Macquarie Bank building in Martin Place in central Sydney. However, at this height, natural pollinators are limited. "Usually a lot of the insects will only go about four or five floors up because of wind and other factors," claims Christian, "so, we are looking at making a resident population of pollinators up there."
Potential bush tucker indoors
I asked Christian to share his suggestions for bush tucker plants that might grow in these situations, assuming their basic needs, including pollination, were met. For sunnier spots, Christian suggested Davidson's Plum (Davidsonia spp.), often used as indoor plants when young, or the Mount White Lime (Citrus garrawayi), a sub-tropical plant that he says will grow in all sorts of conditions. Christian claims that the Rounded Noon-flower or Karkalla (Disphyma crassifolium subsp. clavellatum) is the easiest plant in the world to propagate and is suited to shallow pots. It would make a unique draping addition to a harvestable thriller, spiller, filler kitchen combination, with its leaves able to be used in stir-fries, kimchi or salad. Christian also suggests Lemon Myrtle (Backhousia citriodora), Native Thyme (Prostanthera incisa) or Warrigal Greens (Tetragonia tetragonioides). Imagine picking the leaves of those to add to your lunch at work.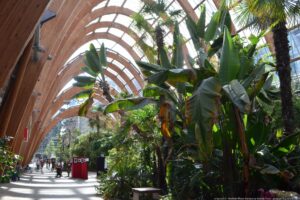 For shadier spots, Christian suggests growing native violets (Viola spp.) for its edible flowers or the climbing Apple Berry (Billardiera mutabilis) to enjoy its fruit. And if you had the room, you could even consider growing a Strawberry Gum (Eucalyptus olida) for its tasty leaves. "Mob used to use them; just pick them off like chewing gum. They have this very strawberry-esque type sweet flavour," says Christian. Imagine that as a workplace stimulant!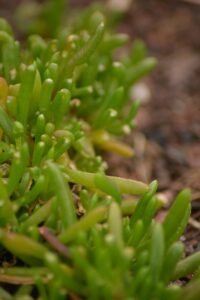 Earthships anyone?
It would be great to see the interior plantscape industry work with architects and designers in this way to facilitate spaces and conditions in which edible species can grow indoors, and not only in specialised vertical farms. Many buildings already feature atria, which are essentially large greenhouses. What if these housed edible species? Or perhaps we could take inspiration from the Earthship movement? Earthships are houses that act as passive solar earth shelters and are made of both natural and upcycled materials such as earth-packed tyres. An Earthship generally includes a habitable greenhouse for its occupants to feed from. Whilst not suggesting your next high-rise office building be made of old rubber, perhaps it can incorporate semi- and, or fully- enclosed balconies in which to grow food plants? Perhaps a building you service already possesses such spaces – How could you repurpose or plant them out differently, to help feed the building's inhabitants?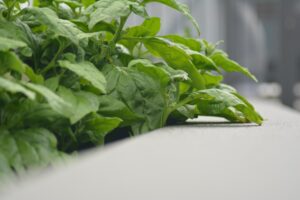 Winter gardens Trapping sun to power plants in high-rise buildings is not a new phenomenon. I worked in Council House 2 (CH2), the City of Melbourne's flagship green building, when it first opened in 2006. CH2 included double-height winter gardens on its western facade to encourage air movement and provide occupants access to nature. Adjustable glass louvres allowed the sun's heat to be trapped during winter for a warm winter garden environment and opened in summer to provide ventilation. Now from memory, the species that were installed did not farewell. However, imagine if they had and if those species had been edible? I may have stayed in my old job!
Gabrielle Stannus
Inwardout Studio
M: 0400 431 277
E: gabrielle@inwardoutstudio.com
Board Member, Interior Plantscape Association