Aussie food plants need development
By Clive Larkman
Last month we looked at the foundations of the native food industry. The potential is huge but the reality has seen decades of stops and starts. There is a groundswell of desire for us to have an Australian native food sector. The community at all levels wants to see an industry that is vibrant, exciting and producing healthy, tasty and sustainable foods produced from native Australian plants. The range of flavours is as great as exotic plants, they grow in our climate and have minimal effects on our local environments. They are now starting to get serious usage in leading Australian and overseas restaurants.
Like most of the western world, our food palette has expanded at an amazing rate. The reasons are varied and complex but the result is a strong shift from the bland to the exciting. Most Australian towns will have several different cuisines to choose from. Italian, Chinese, Thai, Mexican and Indian are some of the most common, whilst Tibetan, Creole and Ethiopian are some of the rarer forms. They may be simple dishes like 'bangers and mash' or more special ones like Duck a l'Orange, baked barramundi or Butter Chicken.
When we go out for dinner we want quality ingredients, complexity of flavour and attractive presentation. We want to be stimulated whilst eating healthy foods and whilst adding native flavours might be intriguing, they do not necessarily make the food desirable. Adding Prostanthera rotundifolia powder to a spice mix because it is called native mint, is in itself, not a great product. However, appropriately used Tasmanian Pepper bush (Tasmania lanceolata) can add a huge depth of flavour with a little bit of spice.
Although this plant is rare in cultivation it has hit the general garden plant choice. It comes from Tasmania and Victoria and is useful for bouquet garni, curry dishes and a range of spice mixes. It is being used by more and more chefs in an ever-widening range of food styles. Like so many Australian food plants, and unlike most exotic ones, there has been no real breeding and minimal commercial plantings.
There are a few other key spices such as Aniseed Myrtle (Syzygium anisatum), an attractive tree with distinctive anise flavoured foliage, and Lemon Myrtle (Backhousia citriodora), an attractive shrub that is popular as a garden plant in warmer climates. Although here has been some selection, there has been no targeted breeding, and the number of commercial plantings are nowhere near enough. Strawberry Gum (Eucalyptus olida), is a large gumtree native to a small region of northern NSW But there has been nil breeding, no commercial plantings of any significance and it's very hard to propagate. All three of these plants have worldwide demand for their oil and for powdered foliage, with demand outstripping supply mainly due to difficulty in propagation and little research work being done on commercial farming needs.
Native mint (Mentha australis), like the real mint, has traditional mint style flavours, is easy to grow and widely available. It is starting to get some professional uptake but more so as 'native', than for its truly mint-like flavour.
Australian fruit is fairing a little better as the flavours are more distinct, easy to use, easy to harvest and store, and often not hard to grow. Excluding a couple of plants, they also suffer from lack of any true breeding or academic research into their agronomy. The demand for the various fruit has come and gone but I suspect that once the interest in Australian fruit takes off and the selection work starts, we will be in for some boom years. Some of the key fruits are:
Syzygium australe (Lilly Pilly) – a tall tree with purple or white fruit, good for jams etc. No breeding or significant research.
Kunzea pomifera (Muntries) – a small shrub with attractive fruit eaten fresh or as jams. Some breeding and farming research.
Davidsonia sp. (Davidson's Plum) – three species from NSW and Queensland used for jams. Some selection amongst the three species.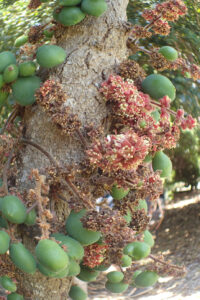 Santalum acuminatum (Quandong) – an attractive tree with much sought after fruit. Very hard to propagate, easy to grow, large seed variation.
Citrus sp. Australian native citrus and finger limes with classic citrus flavours and a range of growing conditions and climates. Some breeding and growing research. Popular in restaurants and at home.
Austromyrtus dulcis (Midyim Berry) – a popular plant that is widely available and easy to grow.
Minimal breeding etc. but some selection.
This covers most of the fruits, although there are a few others coming on. There are also a couple of vegetables in the system. One that is known as Warrigal Greens Tetragona tetragonioides has become quite popular for the home gardener and the occasional green grocer. It is a quality leafy green that is widely used but there has been no breeding nor selection.
Across the whole edible plant world there has been an explosion in the use and demand for edible flowers. The range is huge and there are many Australian varieties that have potential but need some trials. One that has become very popular, as it is widely grown, easy to grow and harvest, and has good colour is Viola hederacea. Chamelaucium spp. are also being used as edible flowers and as a healthy tea.
Each year more varieties are talked about e.g., Microseris lanceolata (Murnong Daisy or Murnong Yam), but they are still not fitting into either the commercial sector nor the home grower industry. Kangaroo Paw has been mooted as an easy-to-grow and edible tuber. There are a range of plants from the tropics which could easily end up on the table as our tastes mature. The edible plant industry is the root of all production horticulture but is now also becoming a key component in the ornamental sector. Gardeners are seeing the benefit in plants that look great and taste good. As this develops, so will the desire to work with more edible Australian plants. Restaurants have changed with the evolution of cooking shows and this has highlighted the opportunities in Aussie food plants. Add in the essential oil and cut flower sectors and the future demand for commercialised native plants is huge. We just need to learn how to propagate them and do a ton of targeted and selective breeding.