Australian Institute of Horticulture connects face to face
By Karen Smith
The Australian Institute of Horticulture (AIH) took advantage of the easing of COVID restrictions and hosted a networking event with a difference. With a cross section of people from different sectors of the industry, it was a wonderful opportunity to network face to face at The Ivy Precinct in Sydney.
During the lockdown we survived by connecting online with Zoom, Microsoft Teams, and various other platforms, and while that saves a lot on travelling time, I must admit it was lovely to connect in person with people I had not seen in such a long time. What I enjoyed about the day was its relaxed format, giving people the opportunity to really connect with people, some they had never met before. Greenlife Industry Australia's newly appointed CEO, Joanna Cave, took time out of her busy schedule to attend, giving her the opportunity to meet some unknown faces and a few she knew from the past. "I was delighted to attend the AIH networking event and to see so many vibrant figures from Australian horticulture, including some of my former teachers from Ryde!. It was a great occasion," said Joanna.
The day began with the opening welcome from AIH National President, President Michael Casey, who greeted everyone with a warm welcome and encouraged people to mingle, enjoy the day and really connect with people. "The day is about connection, bringing together the industry to openly discuss how strong we can be when we all communicate and work together. The mix of industry voices, passion and unified commitment will benefit us all as our industry moves towards promotion of nature-based solutions, greening our cities and assisting in reversing the damaging effects of climate change," said Michael.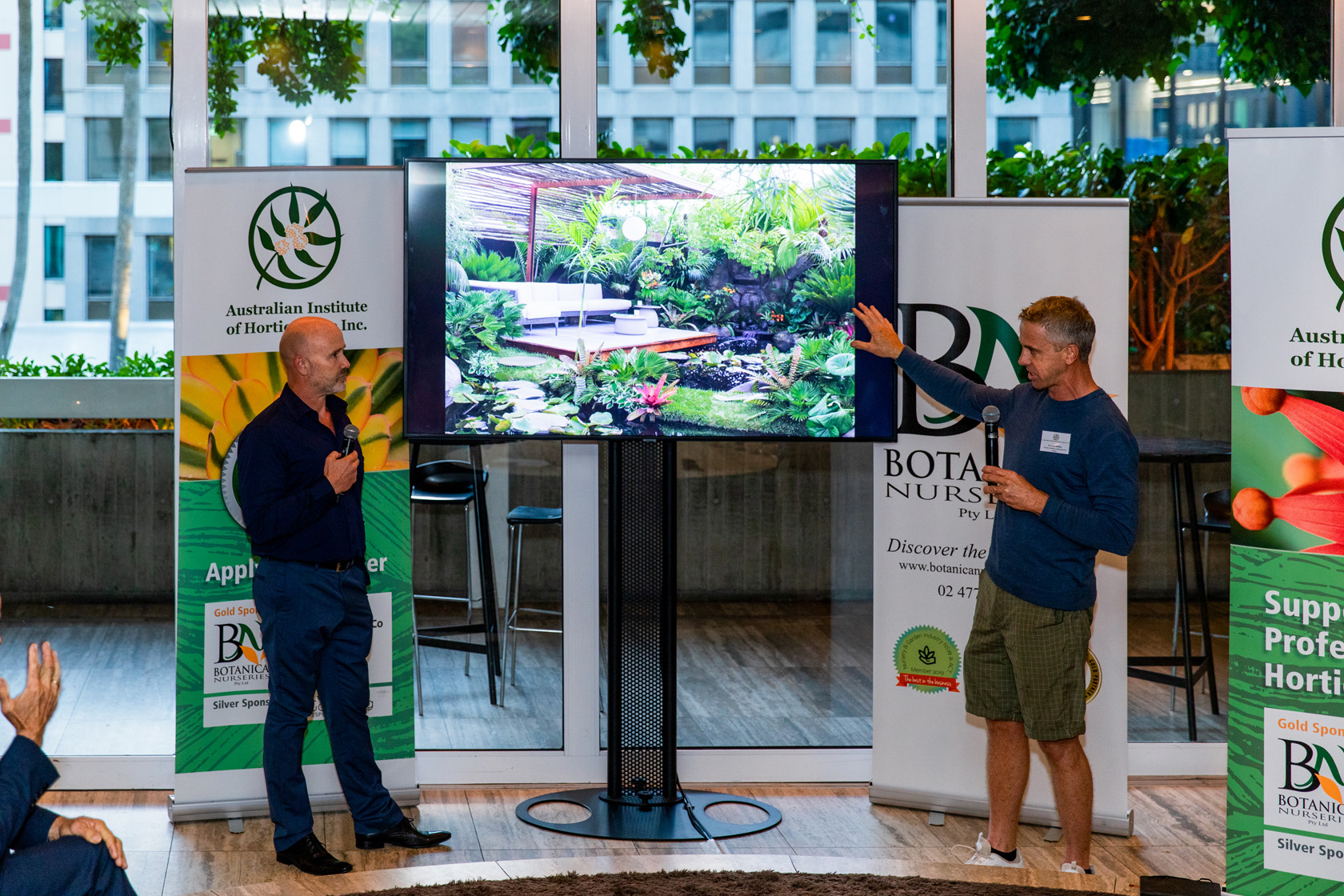 This was a great segue into my presentation (Karen Smith) on Connection Networking, as some people attend networking events but do not necessarily connect with others. The venue was perfect for mingling, with time allowed for people to spend time doing exactly that.
The following speakers had a common thread, native plants, beginning with Clarence Slockee, best known for his appearances on ABC's Gardening Australia, but who is also the Director of Jiwah, an Indigenous company specialising in cultural landscape and design. Clarence presented on the use of native plants in the landscape. He shared images along with his discussion on major projects he has been involved with.
Roman Deguchi and Matt Coe are from Wildflower, an Aboriginal led not-for-profit organisation that was created to break the stigma and cycles that come from lack of opportunity. They employ, mentor and offer training programs to Aboriginal people. The provide a range of landscaping services and unlike many organisations in the industry, they have no shortage of people wanting to work with them. Roman and Matt lead by example and focus on personal development and wellness.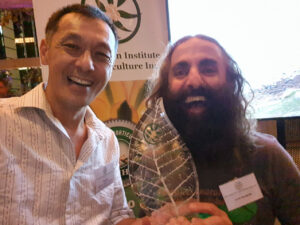 Jess Hodge, a Landscape Architect decided take time out to travel around Australia with her partner and twin four-year-old children. Jess was a contestant on MasterChef before her travels. Her love of native food and cooking has inspired her to learn more about indigenous edible plants from Australia's First Nations People, hence her travels took her far and wide around the country, and aside from the cooking, Jess talked about incorporating native edible plants in her designs.
After a break, there was time for a little more networking and some delicious food, then the second part the event began.
Award winning Landscape Designer Christian Jenkins held the attention of the audience showcasing some of his award-winning designs and Show Gardens. Giving us a snapshot of what is involved in entering the major garden shows both in Australia and overseas, Christian didn't disappoint, with his engaging and entertaining style as he took us through the processes.
Jonathon Garner, a consulting and practising horticulturist, gave an insight into some of the contracts he works on as a consulting horticulturist both at Mayfield Garden in Oberon, NSW and Government House. Jonathon explained how he discussed with Her Excellency the Honourable Margaret Beazley AC QC, Governor of New South Wales, the prospect of including a bed of Waratahs, the floral emblem of NSW. The task included bringing in appropriate soil to suit the growing conditions and creating a trench to ensure the correct drainage and pH.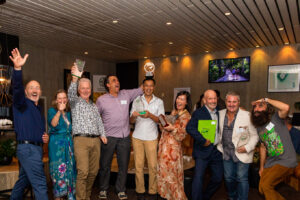 Following the presentations, the 2021 AIH NSW Awards were presented to those who were local.
The Golden Wattle Award – Jonathon Garner FAIH RH
The Horticulturist of the Year – Tammy Huynh MAIH
Silver Gum – Greg Bourke
Award of Excellence – David Ting MAIH RH
Award of Merit – Wendy Whitely OAM The Award received by volunteers – Judy and Wayne Grundy
Green Residential Space Award – The Greenwall Company – Mark PaulGreen Space Events & Engagement Award – Collector's Plant Fair – Dan Wheatly
After the awards, guests were able to spend a little more time networking,
Thanks must go to Michael Casey and his hardworking working team for organising the event. AIH is going from strength to strength because of you all. Well done for giving so much to our industry.