The community is set to benefit from a strong green infrastructure network
By Michael Casey
Recently I was invited by the International Association of Horticultural Producers (AIPH) onto their technical panel to assist with their World Green Cities Awards. These awards are intended to highlight and advocate, innovative and inspiring nature-orientated approaches to city design and operation. More importantly, it sets out to recognise, as stated by AIPH, initiatives relying on a greater use of plants and nature to create better city environments, helping to fulfil local aspirations for improved economic, social and environmental resilience. My role, along with 22 other leaders in the global green city space, was to assess and score all eligible entries and select a shortlist of entries for each award category to be delivered to the 2022 Jury, who will select each category winner.
What I have taken away from the submissions review is the high calibre and creative ways in which cities are turning to nature-based solutions to solve these economic, social, environmental and human problems our world now faces. To review projects in cities that are in some examples operated by the communities themselves, had me thinking about how quickly we are turning the tides in the responsibilities of taking climate change seriously. It also got me thinking about how my work has changed over the years to start empowering my clients in the education and local community sectors, to both co-design and co-manage the projects alongside my company.
My work over the past ten years has concentrated on 'must have' rather than 'nice to have' elements. This has meant that there is now a requirement and moral obligation on my part to provide greenery into spaces as built structures engulf more of our building envelope, and as urbanisation encroaches into peri urban and regional spaces, removing much needed biodiversity and plant life.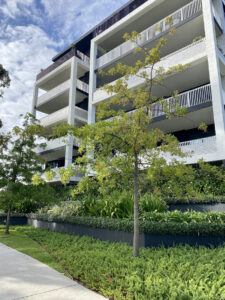 I am now very proactive about integrating my work and skills into the enthusiasm and energy of the communities and individuals in the management and design stages of a project. This hands the community members the power and knowledge to co-manage their greening projects with the hope they will then take on not only ownership but stewardship. My last article in Hort Journal (March 2022) Designing green spaces benefits and strengthens the community discussed the impacts of designing for community benefits. It was encouraging as I reviewed many of the AIPH submissions that these projects also captured the same intent, communities working alongside local councils, agencies and professionals to achieve a greater outcome. The ripple effect from communities using these new green spaces ensures the communities benefit from the economic potentials which come from the creation of new career and entrepreneurial opportunities.
With the commendable job councils and local governments are doing at implementation level, we may need to further our 'green action' management where this is incorporated as standard (non-negotiable) requirements in building contracts to include agreements to manage and nurture the new project. The idea of incorporating the views and thoughts of council, community and green infrastructure professionals into new projects may add all the links we require to ensure success of the project, and then assist in the handover to the community to further assist in management. I feel only then will management of these spaces become a contractual agreement between the community and the green infrastructure professional, to confirm to council that this asset will be taken on and nurtured, and managed the way it was intended.
Furthermore, additional funding could then be delivered in larger amounts at grassroots level as well, therefore assisting these communities to employ more trained staff to work on the maintenance and management, along with obtaining access to professionals to ensure the follow up, or co-management of these spaces are working, and the project succeeds.
As we look to professional support to work alongside our communities, we also need to address the bigger issue and that is providing a sustainable career pathway for people wishing to join this workforce and fulfill this need.
As we start to integrate green spaces into new and existing buildings and communities, it would be satisfying to know that there has been a start on building a dedicated work force trained in all aspects of green infrastructure, and how to manage and maintain these installations.
Recent years has seen the creation of new training skills in the field of green infrastructure, which Registered Training Organisations need to take on, and recent releases of best practice guides such as the recent Maintenance Guidelines for Australian Green Roofs, released by the team at Melbourne University. These examples will ensure we have both training underway and best practice guides to direct the current professionals on how best to work on these projects.
Let's now take the time to imagine a city planned, designed and implemented along with the community, government officials and professionals in the fields of urban design, architecture, landscape architecture and green infrastructure. A place that addresses and includes all nature-based solutions, that not only provides a city with all the benefits of green infrastructure but creates and nurtures individuals, communities and the social integration that's so important today. And this all can be done while contributing to the emergence of new jobs and careers for people committed to improving the city and more importantly, the world they live in.
Michael Casey MAIH RH
Director, Evergreen Infrastructure and MJC Horticulture,
National President of Australian Institute of Horticulture
E: president@aih.org.au or Michael@evergreeninfrastructure.com.au