Looking back, looking forward with IPPS
By Karen Smith
Fifty years after the first meeting of plant propagators under the banner of the International Plant Propagators Society, the IPPS returned to the Blue Mountains in NSW to celebrate the ongoing success of the society. The two years since the last conference did nothing to lessen the camaraderie and goodwill shared between members.
Problems associated with closed borders and difficult supply chains became topics of conversation rather than impediments to the efficient operation of the nursery industry. It was good to see representatives from nurseries and industry that were previously isolated behind closed borders.
"I believe the more you know about the past the better you are prepared for the future". John Bunker from Greenlife Solutions, quoting Theodore Roosevelt, provided a brief history of IPPS before showing what the future may look like for propagators. Drones and high levels of automation are already appearing in nurseries and higher levels of integration of control systems may make a completely automated nursery possible in the near future. Automation doesn't solve problems such as the availability of materials, and water and water supply will always need close monitoring. Incidentally, John is the son of founding member Edward Bunker, who was unable to attend. John mentioned that he actually attended the first conference 50 years ago as a 10-year-old boy.
A side effect of the COVID19 epidemic is the increase in the demand for plants and particularly indoor varieties. In my own presentation, I covered the topic of the rise in popularity of plants, including the online demand and the exceptionally high prices some plants are commanding, as well as the interest from younger generations who are becoming collectors.
Anthony Kachenko, from Hort Innovation Australia, highlighted the effect, quoting statistics from the Nursery Annual Investment Plan 21/22. Horticulture generally is regarded highly by the community and is seen as generating opportunities for a sustainable and carbon-neutral future. COVID19 is expected to provide about five years of growth in demand for greenlife. Consumer knowledge is also expected to increase, changing attitudes and driving the market growth.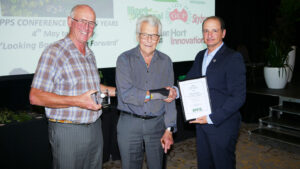 Bill Yiasoumi from Irrigation Australia Ltd and Scott Tucker from Water Quality Solutions showed us two aspects of water supply problems. Bill provided the hard economics of wasted water within the nursery, listing seven steps essential for efficient water use. He recommended allocating a staff member to be responsible for water use and stressed the importance of a maintenance schedule. Record keeping, and having a flexible irrigation plan to compensate for changing plant needs as stock matures, was included in the plan. Conservation and capturing runoff could be a substantial money saver, especially for sites using town water. Storing captured water on-site can also buffer your water supply if there are interruptions.
On-site water storage may suffer excess algae and weed growth, and consequently odour. Algae and weed growth become problematic when you have the right balance of water temperature, sunlight and dissolved nutrients. Scott Tucker from Water Quality Solutions described a variety of methods for treating these underlying problems. Hydrogen peroxide is particularly useful for combating odours and bacteria. Starving weeds by blocking sunlight and scarifying the bottom of dams is effective. Aeration will reduce stratification, and increase water clarity and dissolved oxygen. Floating wetlands with a large mass of exposed roots create an ideal ecosystem for bacteria that are busily removing nutrients and other pollutants from the water. Scott also described biological water treatment using naturally occurring bacteria cultures that, among other things, improves conditions for fish and other wildlife.
Plant life was not left out of the discussions. Graham Brown from NuFlora, Peter Ollerenshaw from Bywong Nursery and James Burnett representing Paradise Berry Propagators, introduced some of their successes. James Burnett described the commercialisation of berry species such as blueberries, strawberries and raspberries for example. James explained that berry production had increased 450% in eight years and had a farmgate value in excess of $1040 million. Introducing raspberries with other colours such as yellow, and strawberries that are white, could boost berry production even further. Also talking about edibles, Dr Puthiyaparambil Josekutty from Skybury Farms, not only provided a technical outline of the papaya created by the in-vitro breeding program at Skybury Farms but also provided samples for consumption during tea breaks which were very tasty.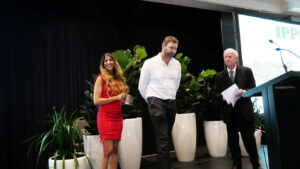 A common theme of new plant varieties was their eye-catching appearance, and in some cases, ease of handling and propagation. Low-care and colourful were the improved verbena and varieties of echeveria from NuFlora. Plants from Bywong Nursery included, among others, grevillea and correa varieties which are ideal for a low maintenance landscapes.
Unusual native plants that could be coaxed into a suburban garden is the aim of many plant collectors. Greg Bourke is one such collector who has had some success taming a range of carnivorous plants. He provided some examples of native plants often found growing in poor soils that, in his view, have been overlooked and may deserve some investigation. Many successful landscape plants have been bred from wild cousins and being native, often thrive in harsh conditions.
And you find conditions no harsher than in streetscapes in our larger cities. I found the research by Professor David Ellsworth from Western Sydney University of great interest. Stress in urban landscape trees, when detected early, can be easily ameliorated before the tree is damaged. Using a device to measure the fluorescence of the leaves, Prof Ellsworth could determine the incidence of stress before the leaves began to wilt. They conducted measurements at eleven different nurseries using thirty different tree species. They found evidence of stress in common nursery stock but they also found some stress promoted root turnover and growth when resources were replenished.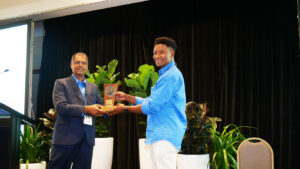 Michael Pritchard, the biosecurity business manager from Alltech Lienert, provided practical advice to minimise biological risks to nurseries. Key elements in Michael's view are segregation of the different departments on site, and a unidirectional flow of product and processes. And disinfection of materials and tools between crops is essential.
Clive Larkman and Angus Stewart covered construction projects of varying scale. Clive described the rush to build a propagation facility replacing buildings from the 1990's. COVID19 lockdown exacerbated construction problems but all was completed in ten weeks. Angus Stewart's project was slightly more modest but very innovative. Angus was involved in the redevelopment of a disused industrial area using raised garden beds. The garden had to be versatile and low maintenance. Angus trialled a water wicking system designed and developed by an Australian company for garden beds and large pots. Using the system was simplicity itself. Fill the "legs" with perlite or biochar, cover the wicking tile with soil and after filling the water reservoir, you are now ready to plant out. According to Angus, this system is water efficient, made from recycled plastic and is ideal for raised beds and roof gardens.
If you need a substrate for your bedding material, a guest from Illinois in the USA, Jennifer Neujahr, outlined the virtues of HydraFibre. This material is a replacement for materials such as coir, peat or perlite that you might otherwise use, and is made from wood fibre, a renewable resource from North America.
Gardens have many purposes. Social and therapeutic horticulture has roots in 1980's Japan where research had shown that being in a garden or even just looking at a green landscape had measurable health benefits. Doug Twentyman from Twentyman Horticulture, described projects designed for therapeutic purposes. Doug used a garden designed for dementia sufferers as a case study, with winding paths that returned a wandering patient to the start of the garden and with a variety of places to sit. Doug pointed out that in Australia there is no nationally recognised Horticulture Therapist qualification, but he is convinced that such a course is needed. He made it clear that horticulture has many benefits for people with disabilities.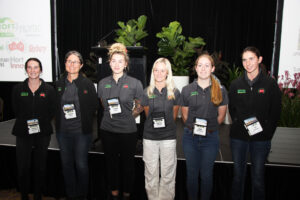 Training in Horticulture has changed over the last thirty years according to Jaqueline Jenkins from TAFE ACT. Students of horticulture vary from school leavers to retirees. Interviewing a variety of education stakeholders, students, managers and teachers, Jaqueline asked her interviewees what changes they had noticed over the last thirty years and the answers where somewhat startling. Comments such as course dumbing down, and more students with learning difficulties, coupled with reduced funding for courses. Using electronic media for delivery rather than hands-on was also seen as a problem. There has been a decline in the number of nursery apprentices and Jaqueline estimated there would be perhaps only thirty in NSW, and yet she maintains that there is a demand for horticultural training and we are seeing huge growth in the industry. In her conclusion, Jaqueline highlighted the limitations of competency-based training, in particular the development of critical thinking.
Bongani Ndwana was presented the Rod Tallis Youth Award for his work with the cloned papaya program at Skybury Farms. It seems he is also the best dancer and choreographer. The short video made by Skybury staff could easily be used to recruit farm workers in Australia.
Certainly, the need for educated nursery staff was highlighted on day two of the conference, during the visit to Oasis Horticulture. A large nursery such as Oasis needs staff with skills ranging from horticulturists and machine operators to logistics. Thanks to David Jakobs and his team for the quick tour and background video. Thanks also to The Secret Garden Nursery for providing lunch in very relaxing surroundings and thanks to staff at Mount Tomah Botanical Gardens.
Awards were presented to recognise the efforts of certain people who have contributed to the society in various ways.
Awards
The prestigious International Award of Honour for exceptional and distinguished service to the society and its members was awarded to Peter Waugh.
Rod Tallis Youth Award was awarded to Bongani Ndawana, for the most commendable achievement by a person under the age of 30.
Steve Vallance Pewter Award for his commitment to IPPS supplying monthly articles to Hort Journal for the Society went to Dan Austin.
Edward & Mary Bunker Award was awarded to Gabe Mostafa, Greener Publishing & Media Pty. Ltd. for his contribution in horticulture.
The Anita Boucher Award went to Michael Pritchard, Alltech SA for his presentation on biosecurity.
Garden City Plastics sponsored the 'Six Pack'. Six young people are chosen to attend the conference with all expenses paid. This year it was an all-female crew who were all very happy they were selected. They were:
Tia Magner – Mole Station Native Nursery, New South Wales
Kailey Wilton – Ibrox Park Nursery, Queensland
Emily Canham – Granton Plants, Tasmania
Isobel Young – Westlands Nurseries, Tasmania
Zoe Williams – Waterworth's Nursery, Queensland
Sabine Suess – Natural Area Services, Western Australia
Main photo: John Bunker presents Gabe Mostafa, publisher of Hort Journal with the Edward and Mary Bunker award