Landscape Design Trends for 2023
Supplied by Landart
Mediterranean influences, bold leaf foliage, soft curves, timber and stone materials, and colour palettes of earthy naturals, greens, blues, and fresh white. With a business grounded in being amongst the first to deliver outdoor design trends, Matt Leacy, creative director and founder of the award-winning Landart, shares some of the key outdoor trends for 2023.
"One design influence that's here to stay is Mediterranean – I would say it is the new Hamptons. While a Mediterranean influence is not new as such, it does continue to grow in popularity globally – and it's very well suited to the Australian climate and way of life. The soft coastal aesthetic of the Mediterranean style works on a lot of the properties we design and produce, and the materials weather beautifully in Sydney or Byron Bay climates where most of our clients are based. The key is to draw inspiration from the style and to then ensure this marries well with the interiors of properties as well as existing external architecture. The design aesthetic has to work as a whole," said Matt.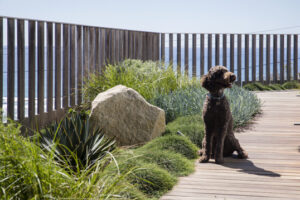 And what does the Mediterranean influence look like in 2023? Leacy says to think 'natural' materials like timber and stone, offset by soft white renders and large sweeping curves around pools and garden beds – with a more bespoke, custom-build approach to a space, complemented with hardwood furniture and linen fabrics. It also incorporates over-sized planters, warm mood lighting, multipurpose seating, edible gardens, recycled materials, art pieces/sculptures, and cabanas.
"Natural materials like recycled timber, tea tree sticks, overhead shade structures, floorboards and natural stone, all layered with a bit of interest and texture like crazy paving, cobbles, and random shape walling that is beautifully offset by soft white renders, are what we will see more of this year," said Matt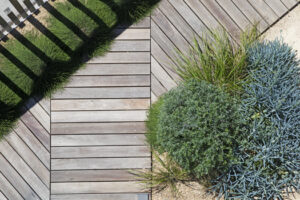 Colour-wise, Leacy and the Landart team are leaning towards natural, earthy colours, fresh white palettes and the use of green, including strong colours such as emerald green and blues.
"A white-based palette will be a popular choice – and it works well as a base to layer natural products such as stone and timber, and then bring in either bright splashes of colour with the green and blues, or accentuate with more natural earthy colours".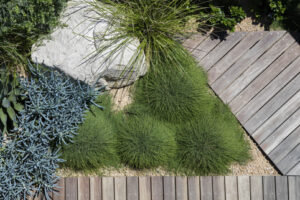 When looking at trends for inspiration for an outdoor space Leacy does caution that home owners can be influenced but should not be entirely led by fashion. "No design style or colour choice should be adopted just because it's on-trend. It's important to consider how the look of the moment works within a space, and to not just blindly follow trends. Trends inevitably date. If you can, bringing in a landscape designer to help maximise a space, place all the important elements, and work on a design style and plants that will thrive in your environment, is a fantastic investment. Just as architects are a sound investment on the structural design of houses, landscape designers can add that same level of expertise, space optimisation – taking into account environmental elements, and design flair to outdoor spaces. Or, find someone who can consider your property holistically".
In terms of maximising space, and ensuring critical Council regulations are met, expert support can also ensure green roof spaces, water storage and the latest technology in watering systems are all constructed within relevant codes, and to ensure they work at maximum efficiency.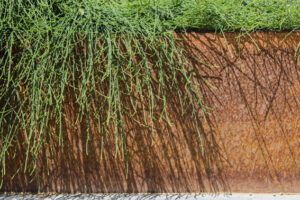 "Rooftop gardens remain very popular in outdoor spaces. For obvious reasons, any rooftop construction should be approached with caution and expert advice. Things can go horribly wrong if they're not designed and built well and in accordance with best building practice. Done right, they're a beautiful design feature in a garden, and such a smart use of space that also has practicalities in terms of water capture and insulation for homes. We've created some beautiful rooftop gardens and look forward to doing more this year.
Watering will also be back on the agenda in 2023 after what was a very wet year. La Nina is set to end around the end of February – and we're already experiencing a drier start to the year. So, all the hand watering habits need to start re-emerging as we're finding gardens are drying out very quickly, even at the moment where we are still getting some good rainfall. If you're not someone who has the time, or inclination, to hand water your garden regularly there is some amazing new technology to help keep gardens hydrated when the skies will no longer do it for you. The technology looks at the forecast and if rain is predicted for that day the irrigation won't come on unless of course it doesn't rain, in which case it then automatically irrigates the garden, and you can control systems from your phone – making garden care much simpler," added Matt Leacy.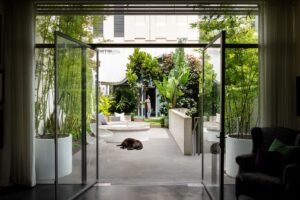 According to Landart, pools also remain popular with recent reports* revealing they add significant value to properties.
"Pools and outdoor kitchens are quintessentially Australian and two key elements of outdoor spaces that are not so much trend-driven but are a prerequisite for most of our design briefs. The popularity of the plunge pool will be one of the biggest trends in pools in 2023. Along with curves. We'll still be seeing more traditional rectangular shapes, and they will always have a place in our landscapes as the shape of the pool is driven by the look and feel that suits the property and the client", said Matt Leacy.
In a snapshot, Landart's key trends for Australian outdoor design in 2023 include:
Style Influence: Mediterranean.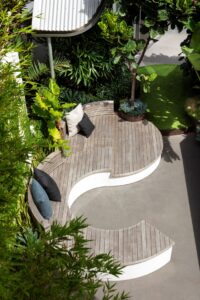 Colours: Earthy colours, fresh white palettes – green and blues, and pink-tinged terracotta's.
Materials: Weathered hardwood, stone and terracotta. Fabrics will also be neutral, include linen and for the most part, have less patterns. Patterned tiles will however continue to grow in popularity.
Structures: Soft curves, timber and stone to create organic, natural structures.
Plants: Big lush foliage, leafy, with a green palette, i.e. Alocasia and Heliconias (in warmer climates). Plants with a grey hue will remain popular but greens will make a resurgence.
Vibe: Quiet and controlled, relaxed coastal – nothing too structured or formal. Landscape design will have a real soft edge in 2023.
Garden design that is environmentally friendly will also continue to grow in popularity with rooftop gardens, solar power and water capture.
Pools: Think compact plunge pools as well as curves, in a range of colours with more of a lean toward sandy finishes that create more of a green tone in the water.
*There was a 21.4% rise in the pools category over the year to November 2022 in Commonwealth Bank's Household Spending and Google Trends search data.
Main photo: A relaxed look with natural elements and bold leafy foliage (Image:Jason Busch/Landart)