Spider lifts – knuckling down, or up, to the job
By Gabrielle Stannus
Some indoor plant technicians need much more than a dusting cloth, watering can and a pair of secateurs to complete their maintenance rounds. For Interior Plantscape Association member Mitchell Reid, Managing Director of Tropical Plant Rentals, constructing and maintaining green walls is a routine part of his job, requiring a variety of mechanised equipment including the aptly named spider lift.
Mitchell is a qualified horticulturist and structural landscaper who has overseen the construction and maintenance of many large and small-scale green walls, both indoors and outdoors. His team installed the GSky Versa Wall™ in the Calyx at the Royal Botanic Garden Sydney. "We are not afraid to put plants where you do not think they should go," says Mitchell. However, putting and maintaining plants in those places means Mitchell requires specialised equipment and staff licenced to operate it.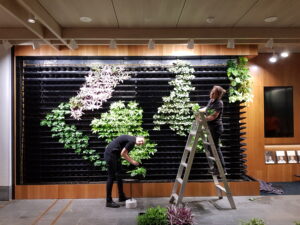 "A lot of the time these green walls are quite high, and ladders are not something that we can use higher than two metres. You are going to need an elevated work platform (EWP) ticket to allow you to use scissor lifts, knuckle booms, and spider lifts," says Mitchell. His preferred EWP is the Monitor Platform Basket Spider Lift. Coming on a trailer, and under two metres in height (when retracted), this lift is easy to transport, can fit through a double doorway, be driven into position and operates on either petrol or battery. "When you get this lift inside the foyer, you can operate on lithium batteries so that you are not producing carbon dioxide within the building," adds Mitchell.
Mitchell says that a spider lift can move quite differently to a scissor lift, which only operates vertically, i.e. up and down. "The spider lift is a knuckled machine. We have some green walls that start at the ground floor, and there is a set of stairs that run through the middle of it. So you must knuckle and bend (the lift) and work your way over the top (of the stairs)," says Mitchell. He highly recommends that new drivers have a practice in their own yard before taking this type of lift on site. "It is pretty embarrassing if you get to the site and you are struggling to operate the machine, and you are about to drive it into a foyer and then send it thirteen metres up," explains Mitchell.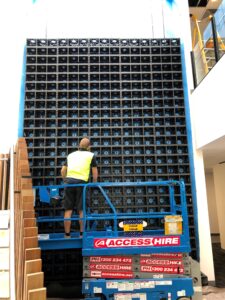 "A lot of care and detail needs to go into setting the machines up to ensure that you leave the place the way that you found it," adds Mitchell. Before moving the lift into a building, Mitchell's team lay protection floor matting down followed by plywood, so that the machine's weight is distributed evenly as it moves across the flooring. Bobcat ramps are positioned in place when necessary to enable these lifts to be driven upstairs and across tiles. Workers must create an exclusion zone around the EWP, clearly signed to passers-by and controlled by a 'spotter'. Workers must also wear a safety harness and any tools that are used within the basket, need to be attached firmly to lanyards.
If you are thinking of using a spider lift, Mitchell offers some additional advice. "There are lots of different spider lifts," says Mitchell, "We predominantly try to use the same brand and type because each of the machines have different operations. That way, we become more accustomed and fine-tuned in operating that machine." Mitchell recommends hiring or leasing this type of machinery from a hire company that provides after-hours service. "If you are having a problem with the machine on a Sunday at 11 o'clock at night, because that is the only time you could get into that job, and the machine breaks down, you need to be using a company that can have someone come out and repair the machine for you on the spot," Mitchell concludes.
Gabrielle Stannus
Inwardout Studio
M: 0400 431 277
E: gabrielle@inwardoutstudio.com
Board Member, Interior Plantscape Association