Advancing the use of trees indoors
By Gabrielle Stannus
Thinking about planting a tree indoors? I spoke with Chay King, Director of Kings Landscapes, to find out what you need to know when designing, constructing and maintaining an interior plantscape featuring advanced trees.
Chay King is a highly qualified and experienced arborist whose Gold Coast-based family business, Kings' Landscapes, transplants and sells mature ex-ground trees across Australia. Chay has supplied advanced trees to many interior plantscapes including Westfield Chermside (Howea belmoreana), The Barracks (Harpullia pendula) and Westfield Garden City (Elaeocarpus eumundi and Magnolia 'Little Gem').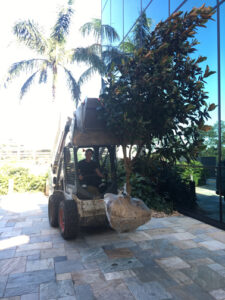 Supplying advanced trees takes years of preparation. "If we can have something from five to eight years in the ground before transplanting and selling it on, that would be ideal," says Chay. The most expensive trees are usually those that grow the slowest, including Howea forsteriana (Kentia Palm), one of Chay's best-selling plants. "Kentias are definitely the flavour of the month!" adds Chay. The Kings Landscapes team strike seed from Kentia Palms, with Chay's father having brought seedlings from Lord Howe Island to the farm over 40 years ago. "We plant them as an understory planting with taller vegetation and slowly sun harden them up under filtered light until they are established and can be moved on," says Chay. "We are a little bit opportunistic as well. If we do find some trees that people do not want anymore, we will transplant them and put them into a storage facility we have on our tree farm and then maintain them until such time as someone would like them."
To harvest trees from the ground, Kings Landscapes use a technique involving fine jet, high pressure water. Chay claims his father, Rob King, pioneered this method when the business used to sell sand. Occasionally Rob's dredges would get stuck in the sand, so he bought a high-pressure water unit to release the sand. Rob then got the idea that this technique may work to cut through soil and tree roots. "It is a nicer, cleaner cut with no big tears that you would get normally with an excavator or a trencher, especially with woody roots," Chay explains, adding that they tend not to trim the canopy at the same time as trimming the root systems, although this does depend on the species. "Some plants that we transplant, I would not bat an eyelid cutting it today and moving it in the same day. However, some species we like to pre-cut. We might cut one or two sides of a tree, let it manage that stress and then move forward and cut another side," says Chay. "This tree may sit in that same location for six months. With some trees, we will root prune if their root systems are getting too large, even if we aren't thinking of transplanting them at this stage or they are not even for sale. By root pruning them at this point, the tree can reshoot out those roots again."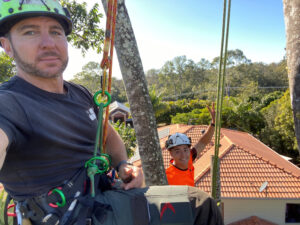 Before removing the tree out of the ground, Chay and his team need to consider how they will move it to its final location. "Trees are generally transported to site using a crane truck. However, sometimes we have had to put some trees on low loaders to keep the overall height down, otherwise we may take power lines down as we drive to the site," says Chay. Once at the tree's destination, the 'moving in' process can become even more complicated. "I have had large 50-tonne slew cranes lifting trees onto building tops or through someone's veranda," says Chay. And imagine taking Dracaena draco (Dragon Tree) to a building's fifteenth floor via a lift. To avoid damage to tiles and other flooring surfaces, boards must be laid down before any vehicle or trolley can move the trees indoors.
Chay advises designers to think carefully before specifying an advanced tree indoors. "Look at root structures and growth habits, and how fast trees are going to grow, to avoid expensive maintenance repairs down the track," says Chay, "Ten years from now, will the tree handle its location? I am dealing with a lot of root issues now, where the water is permeating through whatever planter the tree was planted in." Chay was recently called out to a shopping centre where a Livistona australis has grown too tall. "They are now bending because they are hitting the roof and they have nowhere to go. So, they will have to be removed," Chay explains. Chay says he has had great success indoors with Livistona australis (in the right location), as well as Ficus lyrata, Howea belmoreana and Howea forsteriana. "The only trees that have failed have been ones where the maintenance has been too extreme, with too much love or not enough."
Indoor trees require access for regular maintenance including pruning and cleaning to maintain the design integrity, for the health of the plant, and for safety reasons. Trees may grow so large that they become top-heavy, and their shallow indoor root system is unable to hold the tree up. Large trees will need to be pruned and cleaned during hours when the building is closed. This work often requires the use of an elevated work platform (EWP) or involves arborists using ropes to climb the tree. Whilst power pressure sprayers are suitable for use on some trees, some varieties require each leaf to be painstakingly wiped clean.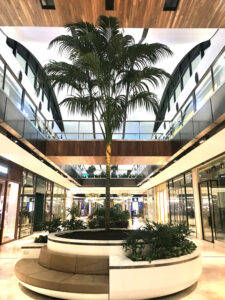 Chay says that it is amazing how dirty trees can become indoors and suggests that the grime that accumulates on them may be due to air conditioning flows. "If we can look at species that are more tolerant of build-up of dirt and grease, that would be really beneficial," Chay suggests. "We also need to look at different species with slower growth habits and forms, such as Dragon Trees. I think they are a great feature as they have a very slow growing root system. We have to experiment and start getting away from the standard trees that we put in," Chay concludes.
Gabrielle Stannus
Inwardout Studio
M: 0400 431 277
E: gabrielle@inwardoutstudio.com
Board Member, Interior Plantscape Association
(All images supplied by Kings Landscapes)