Wax flower puts on a show
Label: Chamelaucium uncinatum 'University'
ACRA Registration 143 (November 1982)
Family: Myrtaceae
Origin: Chamelaucium uncinatum 'University' is a form of Chamelaucium uncinatum originally selected from plants growing at the University of Western Australia by the late Oliver J Dowell. It has been grown commonly in cultivation since the early 1960's. The applicant is Mr George Lullfitz of Wanneroo, Perth.
Characteristics: This cultivar is a low growing form of Chamelaucium uncinatum. It has an open habit and sparse, woody branches. Although flowering is less prolific than on most forms, the individual flowers are a spectacular colour, opening deep pink and darkening with age to a deep purple. The flowers are ca. 20mm in diameter with average to large sized petals.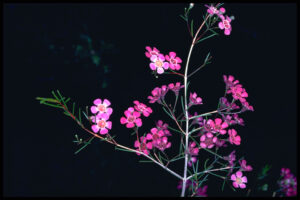 Cultural notes: Chamelaucium uncinatum 'University' requires the same cultural conditions as C. uncinatum. It tolerates a wide range of growing conditions and soil types, as long as they are well drained. It is widely grown in suitable conditions throughout Australia. Drought tolerance is good, however the overall frost tolerance is unknown, though light frosts are known to damage flowers and young growth.
Propagation: This cultivar is easily propagated from cuttings.
Uses: Can be grown as part of the shrubbery or as a showy feature plant.Availability: Kuranga Nursery or for other suppliers see www.PlantSelect.com.au