By Gabrielle Stannus
Interior plantscapers, fortunate enough to also design and construct exterior landscapes, are in an excellent position to fuse architectural and landscape space, ensuring the benefits of nature are extended to building occupants both inside and outside.
In 2017, Evergreen Infrastructure were commissioned to work alongside a school and their design team to design a new study hall for Catholic Regional College in Sydenham, in Melbourne's western suburbs. Michael Casey, Director of Evergreen Infrastructure (and Interior Plantscape Association Executive Committee member), says his team were in a very fortunate position as they were able to consider the architectural and landscape spaces as a whole. With the brief to all professions involved, to design and construct a building around a green wall, Michael was inspired to use and integrate nature in all its forms, and have it on show wherever possible.
"The design intent was to create a relaxing, stress-reducing, and nature-filled classroom that would be used for study purposes and formal examinations," says Michael, "The overall theme was based on an aquatic location that captured the sea, land and animals. We wanted the students to feel all the restorative effects that nature has on humans, and have this work towards improved concentration for both their study and while sitting formal examinations."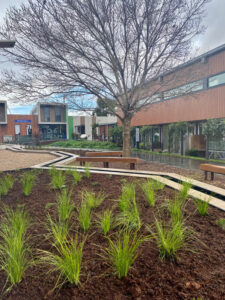 "To have the indoors and outdoors blend into each other and create harmony from transitioning in and out of the building, was important in this and every design," Michael continues, "For this design I wanted the students to arrive to the building relaxed, view nature from their seat and feel relaxed, and to also leave the building and still feel relaxed while surrounded by nature. I wanted students to use nature as their comfort if an exam did not go well, or to embrace nature and take a deep breath to celebrate if the exam did go well."
The design team incorporated playful elements based on the nautical theme to facilitate the transition between the outdoor and indoor spaces. "The layout of the building allows for people to enter through a decked entrance that resembles a jetty fitted out with nautical lights, and a green wall to create an enclosed entrance," explains Michael, "Entering the building, they are greeted by carpet tiles that mimic the bottom of the ocean as viewed from seafloor mapping, aquatic animals scattered around the room and a large 50m2 green wall along the main wall of the building that mimics land." Students are required to sign in at the study hall's main counter, constructed to resemble a ship's crow's nest.
The design team selected plants to soften the built environment for its occupants. "I wanted the green wall to have plants that were so delicate in appearance they did not appear real, and that they captured the interest of students who just needed to stare at the plantings or hopefully touch them. I wanted students to reduce their anxiety and stress, and relax," says Michael.
Michael's team also incorporated biophilic design principles into the design to help ease this transition from the outdoors to the indoors. The sounds of water can be heard in the garden leading into the study hall, and windows allow natural light into the study hall whilst providing views out to the landscape. Animal images, shapes (e.g. fractals), and colours found in nature are incorporated into materials, including furniture and carpet tiles. The use of colour throughout the building also aids in the transition between the inside and the outside.
Michael says he has been inspired by design from around the world, including the Parkroyal on Pickering and Oasia Hotel Downtown in Singapore. He says the indoors and outdoors are integrated seamlessly in these hotels. His team's work on the Catholic Regional College's study hall is now an excellent local example in which school students can learn in, and interior plantscapers can learn from.
Gabrielle Stannus
Inwardout Studio
M: 0400 431 277
E: gabrielle@inwardoutstudio.com
Board Member, Interior Plantscape Associationwww.interiorplantscape.asn.au