Experiments with Tillandsia plants in extreme urban habitats
By Lloyd Godman
As the honeymoon period of vertical gardens ends, a critical question asks, How can plants be integrated into architecture in a sustainable manner?
Tillandsia SWARM is an ongoing ecological art project where Tillandsias (air plants) are mounted on a range of extreme urban sites, left to their own biological devices to survive, and monitored over time. Unlike traditional roof and wall gardens, there is no watering and nutrient system. The intention is to test the plant under extreme conditions and offer a model on how these plants can be integrated into architecture in a fully sustainable manner.
The first site where the plants were installed was the Eureka Tower, Melbourne, in June 2015. The plants were installed at levels 56, 65, 91, and the exposed top at 92. The plants mounted on the drain on the landing at level 65 perished and this was attributed to the window cleaners tipping a bucket of water over them on a scorching hot day in summer. Here the plants have been replaced and remounted on the sewer vent and are growing well. The plants on level 91 faced east and did not receive enough rain, again they perished and have been removed.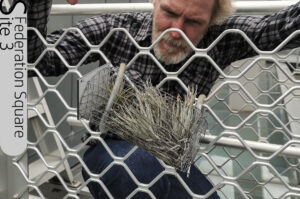 However, plants on top at level 92 which are exposed to the most extreme conditions, intense sun, heat, dry, rain, hail, and winds over 200km/h have more than survived and are now thriving colonies.
Gradually, the project expanded in Melbourne to include Council House 2, Federation Square, NGV, Monash Gallery of Art, Tarrawarra Museum of Art, Australian Print Workshop, Montsalvat, Essendon Airport, Urbnsurf and Edendale Farm. Sites have also been added in Paris, Lyon, Hobart and Leichhardt, NSW. ­
Not all the plants have survived. As mentioned earlier, plants in rain shadows that do not gain enough moisture perish over time. However, plants in open situations will often gain moisture from morning dew and the minimal uptake of this is enough to keep them alive. Tillandsias were mounted about 300mm above the flat zinc roof of ACMI at Federation Square in 2017. Not only do they get exposed to high levels of UV, they get a double hit from the reflection off the roof. It gets extremely hot up there! We checked the plants in December 2021, and all are alive and growing into colonies.
Tillandsias were mounted on the security fence at Essendon Airport in February 2016, where the aircraft warm up and are blasted with exhaust fumes. The experiment is to see if they can survive amid elevated levels of particulates. The plants were last checked in June 2021, and again, they have survived and are growing.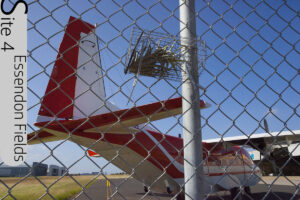 To date, the air plants have proved to be amazingly resilient to extreme conditions.
There are over 700 species of Tillandsia and while most are not suitable for Melbourne, many xeric species are. As some are rare and expensive, I have worked with a narrow range, mainly Tillandsia bergeri, and a hybrid Tillandsia 'Houston' which are common. By using a CAM cycle to grow they not only retain water during hot dry periods, but they are also one of few plants that capture CO2 in darkness when most plants are asleep. Further to this, they can take up heavy metal particulates via trichome leaf cells from the atmosphere, and this function has seen them used as bio-monitors in Florida, Argentina and Columbia. Covered with thick layers of trichomes, rather than a vibrant green, the plants have a silver appearance. These cells reflect up to 90% of light that falls on the plant and is also a factor to their success in extreme conditions.
As many Tillandsias are lithophytes, growing on sheer rock faces high in the Andes Mountains, it is not surprising that they are able to survive the extreme sites on high-rise buildings. After all, a dense high-rise environment is like the home where they evolved.
In comparison to other vertical garden systems, the concept behind the project is to simply select plants that naturally grow in these harsh environments. Sure, the plant palette is narrow, but the approach has proved to be super-sustainable. Utilising plants in this manner avoids many problems that are embedded in, and can plague, reticulated systems. Because there is no water or medium, weight is reduced by more than a factor of ten.