The Cape – A zero emissions housing community
By Georgia Warren and Eily Schulz
The Sustainable Landscape Company (TSLC) is contributing to the delivery of The Cape, a zero-emissions housing community in Cape Paterson, transforming a degraded former cattle station into a thriving habitat site for residents as well as flora and fauna. The landscape at The Cape is devoted to two distinct yet complementary planting types; native plants for local biodiversity, and edible plants for food production.
The Cape is just over two hours by car from Melbourne, overlooking Bass Strait near Phillip Island. A growing number of carbon neutral, solar powered, energy efficient homes are being built across the 230-dwelling estate, while TSLC is transforming the landscape. Cleared paddocks, previously covered in pasture grass and weeds, are becoming the site of newly preserved wild zones, restored creek lines and wetlands, and urban farming spaces. A range of habitats are being designed and constructed, followed by planting programs that are installing hundreds of thousands of biodiverse coastal plants. Many of these plants have been grown at the nursery of Australian Ecosystems, TSLC's sister company, using locally collected seed and cuttings to grow plants of local provenance. The result is a rapid increase in wildlife numbers and diversity being recorded on the site in the past five years, with more than 100 species of birds recorded on site to date, as well a significant increase in the frog, mammal, bird, insect, and reptile populations observed.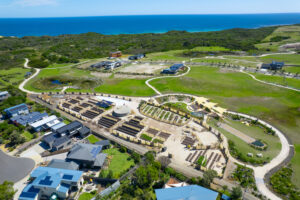 The Cape is well known for setting a national benchmark for sustainable energy efficient housing, with homes averaging around 8 star NatHERS efficiency, coupled with solar power, and energy-efficient fit out – a national first. It is also home to Victoria's first 10 star home. A recent RMIT/Renew study showed that The Cape efficient all-electric homes are using 88% less energy than a state average gas/electric home. Establishing an energy-positive, operationally carbon neutral estate underscores The Cape's leadership in taking positive action on climate change which is a major threat to global biodiversity.
Less well known is The Cape's commitment to Biodiversity Sensitive Urban Design, BSUD, and urban farming initiatives. A key commitment of The Cape is to actively restore the site to support some of the biodiversity that would have been present before it was cleared for cattle many decades ago. TSLC has contributed to a wide range of initiatives at The Cape to create viable habitat for an increasing population of flora and fauna, now cohabiting with the growing residential community. These initiatives span a range of areas including carefully designed soft and hard landscaping to accommodate native fauna, design guidelines that facilitate the protection of wildlife, and big-picture approaches that contribute to the protection and regeneration of habitat for local flora and fauna. This process of integrating BSUD commenced with the decision to choose a cleared and degraded ex-cattle farm as the site to build the estate, instead of choosing to build housing within significant bushland.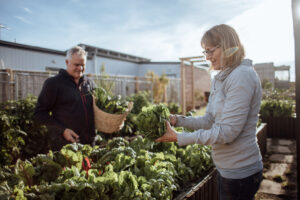 Another key focus of The Cape is urban farming. TSLC believes in the power of community gardens to enrich and engage a community, through shared spaces, goals, and food. Currently under construction is a large 'Community Farm' that is set to be completed in early 2023. Studies of community gardens have found that they promote stronger neighbourhood leadership, outreach, and volunteerism. As climate change impacts intensify and food prices increase, well-designed community farms can reduce food bills for households.
The food gardens at The Cape are not confined to the Community Farm, as many residents have vegetable patches within their own backyards as well. Many of these vegetable patches use Biofilta Foodcubes, wicking beds that allow the plants to access water from the reservoir at the base of the bed as required. This means less watering than a conventional vegetable garden, and reducing household water consumption. These vegetable patches are often integrated with native plantings, the food and habitat planting typologies complementing each other throughout the year. Native insects and birds provide pollination in the food garden, and flowering plants in the food garden provide a source for food and nectar during times when native plants are not in flower.
The usual image of a housing project is bulldozers clearing remnant vegetation followed by asphalt, concrete, lawns and suburbia, and the subsequent decline of nature in that area. The Cape's combined focus on BSUD and high-yield, low-maintenance food production is showing that good design, science, clever planting and site management, can create the conditions for the growth of biodiversity, and community, on degraded sites in housing estates.
References:
i) https://www.dwell.com/home/the-10-star-home-50808ea2
ii) https://www.domain.com.au/news/the-cape-ecodevelopment-should-be-the-national-standard-for-a-zero-carbon-climate-resilient-future-experts-say-922298/
iii) Garrad G & Bekessy S, 2015, 'Biodiversity Sensitive Urban Design: Creating urban environments that are good for people and good for nature', RMIT Centre for Urban Research, ggarrardresearch.files.wordpress.com/2012/11/bsud-final_reduced-size2.pdf.
Georgia Warren, Landscape Architect
Eily Schulz, Horticultural Researcher
The Sustainable Landscape Company P/L