Design lessons from the Melbourne International Flower & Garden Show
By Gabrielle Stannus
After a three-year absence from our event calendar, the 2022 Melbourne International Flower & Garden Show (MIFGS) once again bloomed into action, with more than 103,000 people in attendance at Carlton Gardens and the Royal Exhibition Building. With so much on display, it was hard not to experience sensory overload. However, I had time to reflect more fully on my MIFGS visit after coming home with a case of COVID, so I have distilled several elements from four very different show gardens which I believe all modern landscapes should include: wellness, inclusivity, sustainability and edibility.
1. Wellness
Christian Jenkins Landscape Design took out three awards, including the City of Melbourne Award of Excellence for Best in Show and the Gold Show Garden Award for 'Inner Calm', a Balinese-inspired Show Garden. 'Inner Calm' is designed to transport the viewer from their daily routine to a place full of serenity, calmness and rest, with bench seating allowing for contemplative viewing of the garden's water feature. "I am trying to specialise more and more in wellness gardens. I personally believe that the tropical planting palette really connects with the wellness garden. I am addicted to Bali and I am amazed with the quality of plants and the tropical climate (there)," says Christian.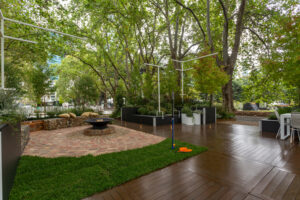 Christian acknowledges that it is hard to recreate Bali's humidity in Melbourne, so he has used plants that provide an alternative tropical effect. Four metre high Chinese Fan Palms (Livistona chinensis) announce the entry to 'Inner Calm', whilst Dragon Trees (Dracaena draco), Mexican Fan Palms (Washingtonia robusta) and Kentia Palms (Howea forsteriana) provide the architectural wow factor. Two small-leaved Figs (Ficus obliqua) in 500 litre bags 'bring up the rear', whilst Port Wine Magnolias (Michelia figo) fill out the garden's perimeter, along with murraya, gardenia, loropetalum, nandina, ligularia and liriope.
Landscape designers can learn much from Christian's approach to designing for wellness, especially given the prevalence of mental illness in Australia. The National Survey of Mental Health and Wellbeing conducted in 2007 found that nearly one in two (46%) Australians aged 16–85 had experienced a mental disorder during their lifetime and that an estimated one in five (20%) Australians aged 16–85 had experienced a mental disorder in the previous 12 months 1. Wellness gardens benefit many, indeed, us all!
2. Inclusivity
A gentle ramp leads discreetly into the Celebrity Show Garden 'Tramlines', designed by 2022 Australian of the Year, champion tennis player and disability advocate Dylan Alcott, in collaboration with Carolyn and Joby Blackman of Vivid Design. However, this fully accessible, inclusive garden is seemingly just like any other beautiful garden and that is the way it should be. More than one in six Australians have a disability 2, either present from birth or acquired through illness, injury, accident or the ageing process. Dylan says that this large market share makes inclusive design good for business. "Retrofitting is costly. Do it from the start, do not tack it on. Inclusivity benefits everyone," says Dylan, who reminds us that as landscape designers we can play an important part in removing physical barriers so people with disability can fully and effectively participate in, and contribute to, society.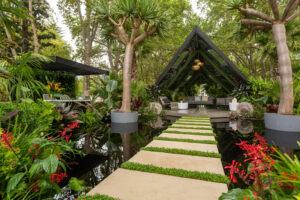 Tramlines' highlights include sensory plants to stimulate the senses with touch and smell, a fire pit propped up so that people of all abilities can enjoy sitting around the fire, and a garden brimming with native plants that feature red foliage and red and yellow flowers. Yellow is apparently the last colour that people with fading eyesight can register.
Under the leadership of Semken Landscaping, Tramlines was built using construction support from Kevin Heinze Grow, an equal opportunity employer and unique nursery that provides horticultural therapy programs, educational traineeships and jobs for young people with disabilities. Dylan encourages landscaping professionals to consider employing people with a disability. "Change your perceptions. Lift your understanding of what people can do. Give them a go," Dylan urges.
3. Sustainability
Climate change was the elephant in the room at the Show. However, akas landscape architecture acknowledged its presence in its entry into the Boutique Gardens competition, 'Coming Soon', a very timely inclusion given that as MIFGS closed, the third instalment of the Intergovernmental Panel on Climate Change's (IPCC) Sixth Assessment Report (AR6) was being wrapped up. 'Coming Soon' shows a house subsumed by a flood, with the message '2.6 billion m2'; referring to the amount of deforestation estimated to occur during the five days the Show ran.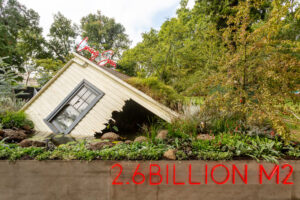 IPCC policymakers warned that if we want to limit global warming to 1.5°C, it is now or never, adding that without immediate and deep emissions reductions across all sectors, it will be impossible 3. To limit global warming, we need a substantial reduction in fossil fuel use. As landscape professionals, we must reduce our emissions by using materials more efficiently, reusing and recycling products and minimising waste. We need to rethink how we manufacture the steel and building materials we use in our designs to minimise their greenhouse gas intensity. Most importantly though, we need to enhance carbon uptake and storage using nature, i.e., trees anyone? There is a lot of steel being used in our landscapes, especially in the creation of so-called 'outdoor rooms'. Why not use trees instead to frame a space, i.e., as living pergolas. Carbon captured!
4. Edibility
'More Than Meets the Eye', designed by Warners Nurseries in collaboration with Robert Boyle, tied for first position for the Gold Show Garden Award with Inner Calm, and received the Horticultural Media Association (HMA) Award for the Best Use of Plant Life. A fusion of six outdoor aesthetics, including a parkland, shaded urban woodland and edible garden, many patrons were attracted to this garden by its central corridor of white birches underplanted with white hydrangeas.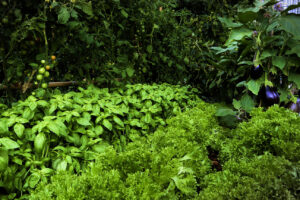 This garden also won the People's Choice Award, and I like to think that this is because it included a potager packed with edible plants. A purely ornamental garden is, to me, a lost opportunity to feed yourself. I believe that no home is complete without a lemon tree, although I understand that may be difficult for some gardeners to achieve in certain climates in this country! Edible plants can fulfill more than one design function. For example, there are many edible hedging plants including Feijoa (Acca sellowiana), Tea (Camellia sinensis 'Alba'), Olive (Olea europaea 'Frantoio'), Rosemary (Rosmarinus officinalis) and the Bay Tree (Laurus nobilis). Now who would not want to come home to one of those hedges?
I cannot wait to see the show gardens at the 2023 Melbourne International Flower & Garden Show, and hope that those designers choosing to participate, inspire and educate us to create even better landscapes and gardens that benefit us all.
Gabrielle Stannus
Inwardout Studio
M: 0400 431 277
E: gabrielle@inwardoutstudio.com
References
Australian Institute of Health and Welfare (AIHW) 2020, 'Mental health', 23 July 2020, viewed 14 April 2022, https://www.aihw.gov.au/reports/australias-health/mental-health
Commonwealth of Australia 2021, Australia's Disability Strategy 2021- 2031
Intergovernmental Panel on Climate Change (IPCC) 2022, 'The evidence is clear: the time for action is now. We can halve emissions by 2030.', 4 April 2022, viewed 13 April 2022, https://www.ipcc.ch/2022/04/04/ipcc-ar6-wgiii-pressrelease/
---
---