Xeric Tillandsia offer sustainable integration into extreme urban environments
By Lloyd Godman
With expanding cities, foliage cover is often displaced and replaced with concrete and bitumen. A changing climate and increasing temperatures will place greater demands on ways to integrate plants into the urban environment to mitigate the heat island effect. Tillandsias offer a means to achieve this.
Critical research on the effectiveness of many examples reveals the positives are promoted while the negatives are often ignored, disguised, or hidden. As heat waves become common, plants that grow on a wall may now not survive the extremes of the future. Replacing areas of a wall garden that has died, is one strategy but there are others. Systems called hybrid vertical gardens are now emerging and these use real plants in less demanding aspects, and plastic plants in areas prone to failure.
There are however, fully sustainable options. Experiments with tillandsias have offered an innovative way to integrate plants into architecture in ways that cannot be imagined with other plant systems.

In 2015, I worked with students at The Friends School, Hobart, to create a tillandsia sculpture that suspends and rotates on the wind in the centre of an atrium. Based on Buckminster Fuller's concept of tensegrity, the plants are juxtaposed with six metal pipes which are held apart but together by tensioned cables, that the plants are fixed onto. While the form is three dimensional, it is lightweight, requires no watering system, continues to grow, and has never needed maintenance over this time. The nature of the plants' biology allows them to be used in situations like this where other plants systems would fail.
In March 2017, I constructed and installed a small triangular screen over a west-facing apex window on a house in outer Melbourne. The screen can be moved up and down over the window via a winch to act as a sunscreen and mitigate heat as required. While it is rarely watered, the plants have flourished and formed clumps, and four and a half years later, I harvested 153 plants to create another screen. Not one plant was dead!
On the old, galvanized roof at home, I constructed experimental tillandsia screens which move over the skylights. The screens use repurposed scooter wheels and can be moved upward to let light and sun in during winter, but more importantly, can be moved down to create shade and mitigate heat in summer. The screens sit about 250mm above the metal roof. Installed in 2016, some plants were lost to extreme frost, ­­­­however the heat they have endured is astounding. On a 42oC day I measured the roof at 84oC, and the shade from the plants reducing the heat to 53oC. ­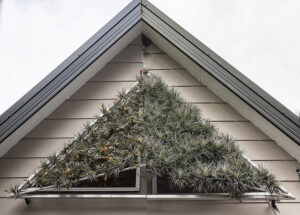 In 2020, another rotating sculpture was installed, suspended in the centre of a dam at a restaurant in Gippsland. The plants have responded so well to the moist environment, that the plants need to be harvested to create a new work.
In early 2020, I was contacted to design a large tillandsia screen for a private residence in East Melbourne. The wall was to be 10 times larger than previous projects and I worked with Geoff Beech, who is also a tillandsia fanatic, on the project. The wall faces west and gets hot in summer. There is an opening window and a protruding screen was created to accommodate the window. Like many aspects of life, the project got delayed by COVID but eventually in late 2021, the screens were completed and installed.
The key findings of this work are that understanding how and where specific plants grow in nature, and selecting species adapted to similar urban locations, offers a way to integrate plants into our cities in a fully sustainable manner, even in seemingly impossible positions. Tillandsias offer a means to suspend plants between spaces, to create animated screens that can move on a roof or façade, and to achieve this with minimal weight and maintenance.