TAFE NSW Moss Vale has helped a Southern Highlands woman realise her dream of working in horticulture – and to follow in the footsteps of her mother.
Maddie-Rose Watson, 22, has had a fascination with plants since she was a young child, tottering around the family's Moss Vale yard as her horticulturist mother tendered to the garden.
After doing work experience at Mt Murray Nursery in Year 12, Ms Watson so impressed management, she was offered a traineeship, a unique "earn and learn" arrangement that involves on-the-job training combined with study at TAFE NSW.
The Penrose resident, who has completed a Certificate II and III of Horticulture at TAFE NSW and is now enrolled in the diploma, said she hoped to inspire other young women to pursue a career in the still-male-dominated industry. The Diploma of Horticulture is running for the first time ever this year at TAFE NSW Moss Vale.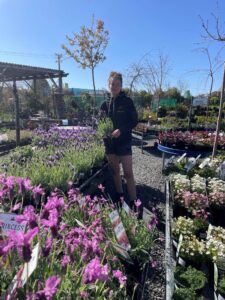 According to industry body Ausveg, horticulture is expected to be the fastest growing agriculture sector in Australia to 2030.
"I've always had an interest in horticulture but didn't really know what I wanted to do when I left school. Once I did my work placement at Mt Murray Nursery, I knew it was the job for me said Ms Watson.
"Learning about new plants is fascinating and working outside is in the sun is just really calming. I love the idea I can support myself and be in the industry while I'm still studying. I'm getting a formal education and an informal one at the same time" Ms Watson added.
Ms Watson, who became a fully qualified horticulturist in 2021, said having access to "highly qualified minds" at both TAFE NSW and her workplace gave her a deeper understanding of the trade.
"I really loved how practical TAFE NSW was; you don't get that at university," she said. "The classes were small, and the teachers were very supportive."
She said she had a special interest in perennials, different garden styles and sustainable horticulture.
TAFE NSW horticulture teacher Tim Dally said Ms Watson was one of a growing band of emerging female horticulturists making their mark on the industry.
"Horticulture is a very exciting industry to be a part of right now and it's great to see graduates like Maddie having such success," he said.
"This is another great example of the real-world skills TAFE NSW gives its students as it trains the workforce of the future."