Education and training the right mix for a greener built environment
By Michael Casey
The significance of training and development of staff cannot be understated for its importance in any industry, and for the success of businesses worldwide. The opportunities that training and development programs can bring to staff extend beyond just improving their skills, to also enhancing employee productivity and company culture.
Green Infrastructure is a relatively new industry in Australia and with the importance of greening our urban environment voiced regularly we understand that to guarantee achieving greener goals our industry must ensure a trained workforce is ready to design, install and manage the many green infrastructure projects required, to bring forward the multiple benefits that we know it brings.
Until now, our building, design and trade industries have relied on two methods of formal training outside of the workplace – either through the RTO (Registered Training Organisation) and TAFE (Technical and Further Education) systems, or through the University sector, with both methods providing varying levels of attainment. The courses our education systems provide, allows the industry to ensure the quality of standards of training are met, and qualified industry professionals are ready to be employed in a market that requires those skills. So, when a new industry such as Green Infrastructure integrates itself into our existing building industry, where does the training come from and who will be available to train people enrolling in these courses? The purpose of this article is to provide a brief overview of where the education and training journey is heading for the industry and to identify the many options available to people wishing to start a career in this exciting profession.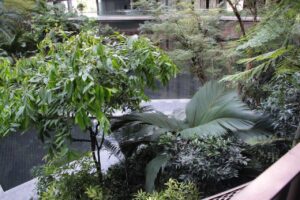 Having worked closely with the industry over the last 15 years I have witnessed more interest in this sector, particularly over the last three to five years, with many people displaying an interest in a career in Green Infrastructure. Speaking with fellow colleagues, the emphasis on attracting staff and then training them has traditionally been carried out internally through a style of 'on site' training and 'in house' traineeship programs. The need for a dedicated course was identified early and discussed within the industry, and then lobbied to Skills Impact (an organisation that collaborates with industry, government and training providers) about the need for specialised training. They lobbied on behalf of the industry, and started work on the Green Walls and Rooftop Gardens Project in 2019 that put together a group of subject matter experts to discuss a skill set and units of competency that could be adopted by the training industry. Our group worked on three key sectors of the training:
Planning and design of green walls and rooftop gardens
Building or installing green walls and rooftop gardens
Maintaining green walls and rooftop gardens
From late 2020 these skill sets have now been made available to the training industry to adopt into their training packages. Up until now there hasn't been a dedicated training program for green infrastructure, but sections of these skill sets are being incorporated into training packages in horticulture, landscape construction, and design, allowing students an insightful glimpse into this profession.
The multi-disciplinary approach that is green infrastructure can make a dedicated course covering all facets of our industry very difficult. The world of green infrastructure combines the professions of building, design, engineering, horticulture, landscape construction, and asset management, to name just a few. Not that there is a need to be fluent in all disciplines but being able to have some prior knowledge or experience tends to be what our experts discuss as desirable attributes. One noted inclusion into our industry is professionals changing sectors and coming to this profession from another relevant discipline.
The Masters of Urban Horticulture at Melbourne University is one I'm familiar with and their incorporation of urban horticultural practices, along with green infrastructure disciplines, has allowed for a tertiary-based approach to addressing skill shortages in this industry. The university also ran a separate green roofs and wall specialist certificate and still operates the Graduate Certificate in Green Infrastructure. These courses have been attracting numerous participants from other industry sectors.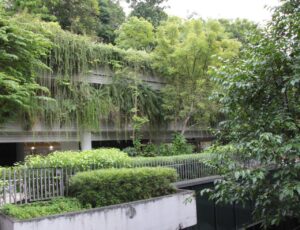 One issue with delivering quality training is the available trainers as the majority of professionals already in this industry are currently working in the sector, and in most cases cannot dedicate time to teaching the required knowledge.
Training the industry can also be very effective through the delivery of training days and workshops held by experts in the field, whether from the design and installation sectors or suppliers. These forms of education sharing can be a valuable resource to both upskill professionals in the field, train new staff coming into the sector, or provide a thorough insight for people wishing to join the profession. Understanding more about who is in the industry, from both practicing professionals and suppliers, will ensure you are able to keep up to date with information-sharing events.
Conferences and forums are now covering various sectors of the urban greening landscape including green infrastructure. Industry organisations such as the Nursery and Garden Industry, along with many other state-wide landscape and building organisations, are gathering the top minds in urban greening and green infrastructure to talk about their projects, research and industry regarding what works and where improvements are required. These forms of training and information sharing are a wonderful way to both network and understand first hand what's happening with projects and the industry as a whole.
The many forms of guideline documents set out by local governments can assist with understanding best practices and guidelines around installation, design and managing green infrastructure, and include industry case studies. This form of learning ensures you receive up to date and relevant research carried out by both industry and academics in easy-to-read formats. Also helpful is the recently released Urban Green Infrastructure Handbook from Australian Standards which details nationally consistent terminology, provides guidance for both traditional and new elements (from street trees to vertical gardens), and assists with setting and measuring progress against UGI targets.
The industry is improving, and training and education is getting much better. The industry does hope for a dedicated training program for this profession but we, the sector, are working on how to best have this set up as a training program. At present, having different approaches to identifying skill sets has helped achieve some deliverables for students, but combining all disciplines into a course is a huge undertaking.
For anyone requiring further information regarding Green Infrastructure and training and research sharing opportunities, the following organisations are a great start:
Australasian Green Infrastructure Network (AGIN)
Green Infrastructure Research Group (GIRG)
Green Infrastructure Research Labs (GIRLS)
Greener Space's Better Places
Local TAFE's and RTO's
Michael Casey
Director, Evergreen Infrastructure
Consultant and advisor to the green infrastructure industry.
E: michael@evergreeninfrastructure.com.au
Main image: Amongst others, green infrastructure combines the professions of building, design, engineering, horticulture, landscape construction and asset management (Image: Karen Smith)