Small but mighty – Tiny Forests
By Felicity Skoberne
Urban greening through planting trees in public spaces can often be challenging and draw a wide range of responses from the community. Wollongong City Council recently refreshed their urban greening approaches by engaging with the community to construct rapid growth forests. These living collections of local native species, also known as Tiny Forests, are small, but mighty.
Since June 2022, three Tiny Forest sites have been planted in the Wollongong Local Government Area. Two of these Tiny Forests were planted in local parks, adjacent to schools, and one was established in the Wollongong Botanic Garden. We're proud of the fact we're the only Australian botanic garden to host one, to date. Based on the work of Japanese botanist, Akira Miyawaki, Tiny Forests work on the premise that competition creates accelerated growth. The forests are named tiny because they only require a 10m x 10m space to create canopy, middle and understorey layers, which emulate a typical forest structure. Each forest contains some 300 trees, shrubs and ground covers, composed of 40 different local native species. These rapid-growth forests have 30 times more green surface area than an area which is covered in grass alone. The use of local native species ensures a higher survival rate, and builds biodiversity and habitat for local fauna. The trees filter pollution, absorb carbon dioxide, and cool the environment to the benefit of the community in which they stand.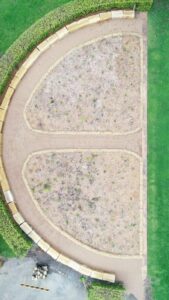 These sites are a practical demonstration of how to successfully create rapid growth forests in urban areas. The two local park sites were selected because they were devoid of tree cover. To be able to transform these greenfield sites into thriving urban forests has been very rewarding for all the stakeholders involved. The effective and meaningful engagement with our local community, and the delivery of the projects in partnership with community members, has been key to the success of these Tiny Forests. Ultimately, collaboration on greening initiatives is how we can build greater climate change resilience in our urban environments.
Ahead of any planting, the preparation for the sites focussed on improving soil structure and microbial levels to ensure optimal growing conditions for the tube stock. The soil pH for each site was tested for its suitability for native plants and adjusted toward an acid profile of pH 6 through the introduction of composted organics. A 100mm blanket of mulch was pre-installed so that when planting and watering was completed by the community members on the day they could walk away with a sense of completion.
There is great educational value in Tiny Forests; the neighbouring schools have found them to be an excellent focus of education for their students and include them in their science curriculum. Engagement through the planting of the Tiny Forests offered lessons about soil science, plant morphology, insect life, pollination, and habitat creation. The schools continue to closely monitor and therefore remain engaged in learning about the rapid growth journey of the trees and plants they installed. Likewise, the Tiny Forest at the Wollongong Botanic Garden has become a great place of learning for visiting schools where they can interact, observe, and learn.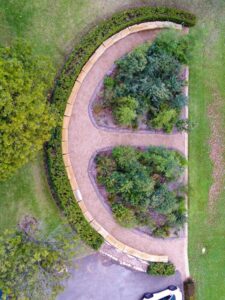 From little things, big things grow; the Botanic Garden site was planted out by volunteers using tube stock. Just over one year later, an emergent canopy layer is booming at 3m for several species. This rapid growth pattern is emulated across all three sites. Each Tiny Forest has educational signage which helps Council to continue to engage with the community. These living billboards provide information on how residents can request a street tree or attend our community plant nursery.
We have found there is a real desire for the community to be involved with urban greening, so providing opportunities in local neighbourhoods, especially through schools, yields incredibly positive results. There is great value in both children and adults actively participating in greening and improving their own neighbourhoods. They get to see their contribution to urban greening flourishing before their eyes, and learn the intrinsic values of greening for their neighbourhood and beyond. Ultimately, our aim is that through opportunities like these, the participants go on and educate within their spheres of influence through their sheer delight and enthusiasm.
Felicity Skoberne
Curator, Wollongong Botanic Garden
T: +61 24 227 7301
E: fskoberne@wollongong.nsw.gov.au
Main image: The Tiny Forest in August 2023 (Image: Wollongong Botanic Gardens)