Sustainability commitment drives future product design and manufacture
Keter, manufacturers of resin-based home and garden consumer products, set out its future sustainability-led approach towards product design.
Better Products for Better Places – A stated ambition to deliver affordable, innovative lifestyle solutions with recycled content and recyclable designs. Keter is already ahead of its 2025 schedule with zero production of single-use plastic consumer products and on track with achieving 55% of recycled content in total production (with 40% already achieved).
Better Planet – Wanting to do a part to mitigate climate change risk, Keter has pledged to implement operational efficiencies and environmentally positive actions through the supply chain, including a 25% reduction in greenhouse gas emissions – a 4% reduction has been achieved so far – and zero waste to landfill, which is also on track with only 23% sent to landfill in 2020, opposed to 25% in 2019.
Better Business – Delivering business and social value via ethical conduct and community investment, including more women in executive and management roles and an improved wellbeing programme.
Innovation and sustainability
In 2020, 40% of items produced used recycled materials and 99.9% of consumer products were 100% recyclable. Keter achieved a 26% reduction in waste ending up at landfills and a 3% reduction in absolute energy consumption.
To underpin its net carbon neutral product ambitions, they are focussing on consumer trends and are pivoting towards increased sustainable manufacturing techniques by ensuring innovative design and production capabilities remain at the forefront of the company's global activity. Entwining sustainability and innovation, Keter has produced more than one hundred everyday sustainability product innovations in the past year, offering consumers a way to minimise their personal environmental footprint.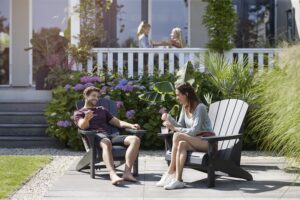 For instance, the firm calculated that the current use of recycled content in its annual manufacturing of just one product, the Bali Chair, avoided more than seven hundred metric tons of greenhouse gases emitted to the environment in the past year (annual manufacturing of approximately 100,000 Bali chairs). This is equivalent to the greenhouse gas emissions of taking 565 passenger vehicles off the road for a full year.
"While Keter is a privately-owned company, and therefore not subject to the same laws as public companies, we aim to follow best practice in matters of governance, disclosure and ESG. We do so because we believe that robust governance, transparency and creating a positive social and environmental impact are essential to build trust, and deliver business success over the long term," says Jean Baptiste Wautier, Chairman at Keter Group.
With local manufacturing facilities across the world, Keter can flex production to take advantage of cross-category innovation and new product developments. This will support local markets such as the UK where there is a demand for smaller, lightweight products, in tandem with the USA, where research shows that consumers seek bigger-sized items to complement larger home footprints.
Zvika Zak says, "Keter is committed to ensuring we lead the industry when it comes to the design, creation and delivery of sustainable lifetime product solutions that meet the emerging behaviours and buying trends of consumers across the globe. We believe that sustainability will come to define how future products will be created and used. We have stringent targets such as a pledge to double the use of recycled materials across our operations by 2028. Meeting this target will mean 80% of all materials used to create Keter's extensive product range will derive from a recycled source.
"A spirit of innovation will also see the KIC utilise cutting edge materials and new technologies to help inspire our ongoing new product development programmes for the years ahead, and we will do it all based upon the company's stated commitment to a more sustainable future, where Keter's products play a full part in enhancing consumer lifestyles without compromise to the environment we all share."
Keter's next Sustainability Report has just been published, reaffirming stated companywide sustainability ambitions and reporting on progress to date: https://bit.ly/3w3BG3k