Indoor colour pops at the 2021 Australian Horticultural Trials
By Gabrielle Stannus
Indoor colour was in abundance during the 2021 Australian Horticultural Trials Week, in both floral and foliage varieties. These new indoor plants from Ball Australia, Haars Nursery, JD Propagation and Majestic Young Plants should attract great interest from professional interior plantscapers as well as millennial 'Plant Parents'.
Ball Australia – Ornamental chillies, succulents, coleus & more
If you are looking for a fresh new look to add to your event hire plant palette, check out Ball Australia's new Table Top Selections featuring upright mounded ornamental capsicums and chillies in pots. Bright purple and red fruit sits above the foliage of Capsicum Ornamental 'Sangria' making for an eye-catching display, whilst the black and yellow fruit of Chilli 'Zamora Yellow' pop with colour. Also suitable for tabletop arrangements and open terraria, are Ball's colourful and unusual succulents: Crassula thyrsiflora (Crassula capitella ssp. thyrsiflora) and Aloe varieties 'Neon Ripple', 'Speckled' and 'Pink Blush'.
New Coleus (Solenostemon scutellarioides) varieties include 'Ruby Spitfire' and 'Heartbreaker', both adding texture and colour to mixed containers. The attractive multicoloured foliage of the low maintenance 'Heartbreaker' makes it an excellent alternative to poinsettias for those interior plantscapers seeking something new for their Christmas rotations. New Heuchera sanguinea varieties with mounded habits and colourful foliage will also make excellent fillers in plant combinations. Check out Heuchera 'Blackberry', 'Orangeberry' and 'Gojiberry'.
Haars Nursery – Begonias, kalanchoes & verbena
Haars Nursery have new bicoloured kalanchoes from Danish breeder Queen, which really are a breakthrough in breeding and new for the Australian market. The bi-colour singles present dramatically coloured centres, and continue to flower and repeat flower. Haars say that these bi-coloured kalanchoes are really in demand in the European marketplace and are impressing customers. Retail nurseries may wish to consider stocking this range of kalanchoes as a gift line, given their sturdy habit and instant impact. The range is a great product for indoors as a new and younger customer base are wanting to use flowering plants and colour, in addition to lush green foliage as indoor decoration.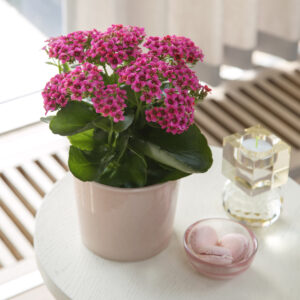 The new Bellaconia line of hanging basket begonias (Begonia boliviensis) are suitable for indoor and patio use. The prolific flowers of these begonias have been evocatively described as "like little ballerinas dressed up in tutus". The Bellaconia range come in a spectacular rainbow of colour assortments, including Citrus, Cream, Rose, Salmon, Soft Orange and Snow. Other colourful begonias suitable for indoor use include the Ilona (B. elatior), Beauville (B. boliviensis) and Solenia (B. elatior) Series.
Haars Nursery also has a replacement for poinsettia in your next Christmas display; the striking Verbena 'Voodoo Red Star' is a standout.
JD Propagation – Alocasias & other foliage plants
JD Propagation have several interesting new alocasias coming through, with unusual colour, leaf shapes and forms, including 'Dragon Scale', 'Red Secret', and Alocasia venusta. Alocasia melo has thick leaves with prominent veins that make this Jewel Alocasia very popular with the houseplant set. Meanwhile, if you are after a showstopper feature plant, look no further than A. infernalis, whose striking black leaves must be seen to be believed, or A. azlannii with its spectacular metallic, purple-coloured leaves featuring a suffused pink hue emphasising its veins.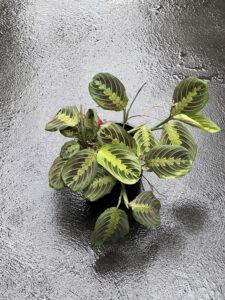 Red is also in, whilst white variegated foliage remains popular. The red stems of Schismatoglottis 'Red Sword' contrast with its silver-hued leaves making it a great indoor feature plant. Unlike monsteras or some philodendrons, 'Red Sword' has a tidy habit and will stay in place. Prayer plants continue to be popular with so-called Plant Parents, and the red-veined Maranta leuconeura var. erythrophylla will likely catch their eye. For those growers seeking plants to meet the continued demand for variegated foliage with white hues, check out JD Propagation's new cutting-grown Tradescantia 'Blushing Bride'.
Majestic Young Plants – Succulents & foliage plants
Majestic Young Plants' Succulent Selections will add colour, texture and structure to your tabletop and windowsill arrangements. The colours of the rosette of Echeveria 'Chroma' varies according to the amount of light it receives, and can be blue, purple, pink, orange or even a metallic brown. Graptoveria 'Debbie' has blue-purple leaves that may turn pink under stress. The short-stemmed rosettes of Sedeveria 'Blue Mist' feature blue or purple leaves that turn more purple when exposed to strong sunlight. These low maintenance succulent varieties are a mixture of tissue culture, seed and cutting-grown plants.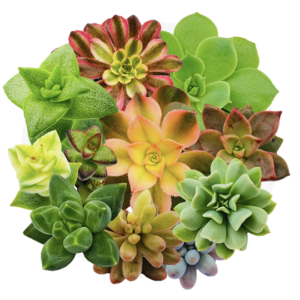 Majestic Young Plants continue to produce colourful foliage plants from tissue culture to meet ongoing demand. The multi-coloured hues and lush patterns of their Caladium varieties are sure to attract interest. Consider Caladium 'Strawberry Star', 'Lemon Blush', 'Hilo Beauty' or 'Caladium Junior' if you want a burst of colour in your next interior design. Also consider the variegated foliage of the epiphytic Philodendron mamei when searching for your next feature plant. Its large, green heart-shaped leaves with silvery dust markings can grow 12-20cm in size.
Gabrielle Stannus
Inwardout Studio
M: 0400 431 277
E: gabrielle@inwardoutstudio.com
Board Member, Interior Plantscape Association