Light rail turf test on track
By Sandra Godwin
Two TurfBreed varieties are being tested to see which is most suitable for use in sections of green track in the Parramatta Light Rail project.
The landscaped green track, a first for New South Wales (NSW), is expected to become a key attraction in three places: the Cumberland Hospital heritage precinct, Robin Thomas Reserve and Tramway Avenue.
The NSW Government announced in October 2019 that the project would include Australia's longest green track, totalling about 1km of grass between and beside the light rail tracks.
It's part of a plan to help "green" Parramatta, which also includes planting of at least 3500 new trees to create shade in some of the suburb's hottest streets.
HL Landscapes laid Nara Native Zoysia and Palmetto Buffalo turf, supplied by Abulk Turf, in a 12m x 4m above-ground prototype built near the now disused Rosehill Station in June 2020.
HL Landscapes project manager, Scott Campbel,l said the prototype was being used to test the durability of the varieties and how they performed on different soil types and depths.
"There's four zones within that prototype," he said. "Two of those zones have the same turf and two zones have the same profile."
One of the profiles had 300mm of topsoil over 100mm of a medium transition sand. The other had 300mm of topsoil over 130mm of transition sand, then 70mm of a coarser sand. A drip irrigation system was installed in the soil, with drippers extending up into the root zone.
As part of the field test, which will run for at least a year and possibly longer, each of the four zones is checked twice a week for plant and root growth, and the prototype is mowed as required. The irrigation system also is adjusted manually each month to adapt to the expected rainfall.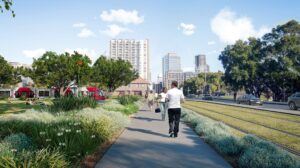 Nara Native Zoysia and Palmetto Buffalo turf were chosen for testing after a comprehensive investigation by Western Sydney University researchers. As well as assessing two existing green tracks in Australia, at Box Hill, in Melbourne, and Victoria Square, Adelaide, they reviewed green tracks around the world.
Their 2018 report into the viability of establishing green track as part of the project included a top 10 of flowering groundcovers and a top 10 of grass species. The list included Zoysia tenuifolia for its thick mat of dense, fine-bladed foliage requiring infrequent mowing.
The report said Nara Native Zoysia was recommended by Greening Australia as a suitable species because it was suited to local conditions, considered relatively heat, salt and drought tolerant, and required less maintenance than typical park turf.
Abulk Turf co-owner, Jess Micallef said she expected the field testing would show Nara Native Zoysia was the most suitable variety for the green track.
"I'm thinking they're trialling those two because Buffalo's a very popular variety and the Zoysia is something new," she said.
"But as time goes on, they're realising that the Zoysia needs a lot less maintenance. Their initial costs are going to be a bit more, and they realise that, but it's the long-term costs that matter. They're not going to have to mow as much, they're not going to have to fertilise or spray, all those kinds of things."
Jess said the Nara Native Zoysia was also more resilient because it rooted deep into the soil whereas Buffalo roots were exposed and inclined to run across the top.
"Nara Native Zoysia is quite dense and short," she said. "So, if you can imagine all the elements, whether it be cars or people, it does withstand more of a battering than your normal Buffalo."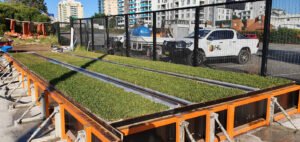 Jess said she was confident that once Nara Native Zoysia was confirmed as the better choice for the Parramatta Light Rail green track, it would become the standard for future government landscaping contracts.
"Once that happens, and they can see how it's performing, I think they'll all be going the same way," she said.
A spokeswoman for Parramatta Connect said tests on the prototype would continue until at least July 2022.
"The prototype is not open to public viewing, but key stakeholders have been invited to provide input including City of Parramatta Council and the light rail operators," she said.
"The grass tracks will be constructed in the coming weeks but will not have grass (laid) until towards the end of the project."
In a statement, Parramatta Light Rail program director Anand Thomas said the trial would help identify how green track will perform along the alignment.
"Green track contributes to increased biodiversity, noise reduction and urban cooling which are great outcomes for the people who live and work in the local area," Mr Thomas said.
"This trial will enable us to see which grass type and irrigation system will be most suitable for our existing local landscapes, parks and streets."
The $2.4 billion Parramatta Light Rail is expected to open in 2023.
What is green track?
Green track is a vegetative layer composed of turf, grasses or groundcovers, planted into light rail track beds. The most widespread forms of vegetation used in track greening are grasses and succulents.
Grass track beds are the most common, found in almost all central European countries. These track bed systems are often created using roll-out turf or self-seeding grass types. Grass track beds are ideally composed of a relatively dense vegetation layer where grasses are the dominant part of the vegetation, limiting the capacity of weeds and other unwanted plant species to establish.
Benefits of green track
Ecological benefits of green track beds include carbon sequestration, potential for a reduced carbon footprint by replacing concrete, retention of stormwater within the track bed, mitigation of urban heat, absorption and retention of pollutants (heavy metals, hydrocarbons and nutrients) by the soil, noise reduction and increased biodiversity.
These ecological benefits also deliver benefits for health and general well-being. There is a close link between the provision of green space and levels of respiratory and heart problems, indicating the significance of green areas and the positive effect of greenery on social and mental well-being in increasingly dense and fast-growing cities.
Climate projections
The urban heat island effect is especially striking in Western Sydney. Its unique geography and the absence of sea breezes results in an increasing number of hot and very hot days along a prevalent east-west gradient. It is projected that by 2030, the number of very hot days will rise by an extra 5-10 days.
Source: Green Track for Parramatta Light Rail – a Review. Western Sydney University, 2018.