Recycling-truck drivers enjoy recycled gardens 
By Bruce Thompson
Encountering raised garden beds where corn, tomatoes, beans, lettuce and parsley are growing, isn't something you expect to see when you're offloading your truck full of recycling bin items at a Materials Recovery Facility (MRF), and yet this is the experience of truck drivers who visit Mackay Regional Council's facility.
Recycling-truck drivers are driving up to four hours away from Rockhampton, Moranbah, Bowen and Hamilton Island to Mackay's MRF, so being able to pick a vine-ripened cherry tomato after unloading their recyclables is something of a surreal experience for them.
As Mackay Regional Council's Resource Recovery Education Officer, I designed and constructed the MRF's gardens, putting my skills as a landscape designer, horticulturist, bush regenerator and horticulture therapist to maximum use. I wanted my gardens to serve as an educational garden for the students visiting the MRF to learn about recycling but also to provide garden therapy for the staff of the MRF who work up to 11 hours a day processing the recycling.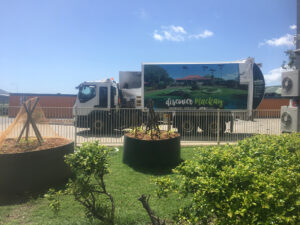 While building the raised garden beds, literally every truck driver would stop and chat to me about the vegies growing in the raised garden beds. It gave them joy after their long drive and it started a conversation that involved absolutely nothing about work and everything about what they enjoyed. In their busy day, this was the calmness and the conversation with the creator of the garden they needed, to maintain their mental health.
The raised garden beds used for the job were sourced from Plastic Forests and Replas, both products being made entirely out of soft plastics collected in REDCycle bins placed outside Coles and Woolworths supermarkets.
I sculpted the Syzygium australe hedges into turtles and pythons for the kids to 'ooh' and 'ah' over, as a reminder that recycling is intimately connected to protecting the environment. For eyes, mouths and tongues, I used recycled materials; aluminium cans cut carefully; wire salvaged from the processing line; for netting, I re-purposed fishing nets that were placed wrongly into recycling bins, one of them never even used.
The mulch consisted of chipped trees our council arborists had removed, and in the garden, I planted 33 plant species of endemic natives, to reinforce my educational message to students of countering the planet's threat of insect extinction by ensuring plant biodiversity in gardens.
The garden is also an experiment to see if by increasing endemic and edible plant biodiversity, the insectivorous bird species that hunt for insects amongst the MRF's glass pile (all those tasty sugars in tomato paste bottles attracting moulds rather than insects and birds, in an ever-increasing predation cycle) might instead prefer the dragonflies and other insects now wafting around the endemic plant species.
This is what every MRF in Australia should look like; every office, every work site – a hub of activity with a green space to distract the people working there from the stresses of their job that eventually take a physical and mental toll on their health. There is significant evidence that confirms introducing a green space into a work place helps reduce employee absences from illness, creates a better culture among the crew and reduces staff turnover.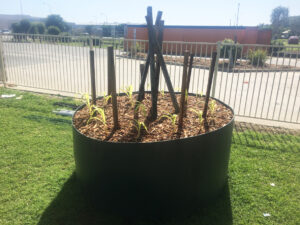 It was Hundertwasser, the 'landscape doctor' and visual artist whose drunken buildings in Austria have inspired countless architects and landscape architects and designers to think differently, who integrated plants into building design as far back as the 1970s, because he understood the effect plants had on mankind's health and wellbeing. He famously said that everyone should be able to reach outside their window and touch a plant. Decades later, with buildings such as One Central Park in Broadway, Sydney and Tower Four in Melbourne, the genius of Hundertwasser has finally been embraced.
The human need to connect with the natural world is an innate part of mankind as a species; we evolved out of nature and we will evolve into nature.
So, be it growing a tomato in a raised garden bed at a MRF or planting out a forest that people working in an office tower will see, a horticulturist's ability to create a green space is also their ability to create a better world.
M: 0404 806 022