Automation: The future needed now
By John Fitzsimmons
Recent times have brought the future forward, sharpened our focus and made knowing where to look, a lot more obvious.
Recent episodes of economic upheaval mostly associated with a pandemic and international conflict, plus extreme weather events evidencing the trends in climate change, have increased the urgency and relevance of many personal and business decisions. This particularly applies to capital investment in the greenlife industry. Such investments encompass structures, staff and equipment, and each with their particular opportunities and challenges.
A company with a long history at the heart of this sector is Transplant Systems. This company started out many years ago with propagation systems in New Zealand's famous forestry industry before expanding into the greenlife sector, and the company still maintains "what worked then to grow plants still does now". The name simply reflects what it's about – equipment, consumables, even growing media.
The company's marketing manager, Malcolm Calder, sees the closest looming challenges being the efficient use of water, and mitigating the lack of labour.
"Those two issues are really going to be 'front and centre' for the industry. On the labour side we are looking to help the greenlife industry with automation, and developing automation to meet growing market demands," Malcolm said.
Another important happening is the rejuvenation of the forestry industry and a sea change in re-equipping and mechanising nurseries as major trends. Nursery mechanisation has especially accelerated over the last five years and notably in the automated 'visual transplanting' area. The company, while helping smaller nurseries has also had 'the privilege' and capacity in helping build nurseries from scratch, and is recognised for expertise with larger projects while still working with nurseries that might employ few people.
The company observes the industry is now at a crossroads "… (and) faced with a convergence of challenges worldwide". Malcolm refers to higher global demand for food, higher quality food, and more frequent dramatic weather events demanding.
"How are we going to learn to grow in a more unbalanced climate?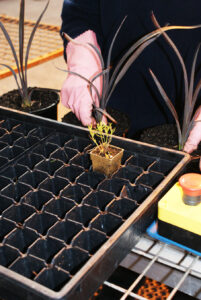 One will be seeing even bigger areas of glasshouses, new growing systems, indoor growing, vertical farming, and developments in lighting technologies. The strong and rapid growth of protected cropping is real and a standout sector absorbing a lot of investment."
"And yet it all still starts, still needs, a seedling or a cutting," Alan Rogers, the owner of Transplant Systems points out.
The seedlings and cuttings will be demanded in greater volumes, greater consistency at commercial scales which increases automation, Malcolm Calder added.
It is, he agrees, a combination of traditional hardware and new control software adaptable to growers' diverse needs. Much automation is now 'PLC-driven', controllable at distance over internet or mobile phone networks, especially watering and fertigation systems.
An enterprises' needs might change but there will be a progression, Malcolm explained, from manual operations to automation, to higher capacity and on to buffer tables, and conveyor or logistics systems.
At what point does the nursery say, 'I need to automate but how do I afford it, how do I justify the investment?'
"That is exactly the crossroads that nursery owners get to because it takes a lot of courage to actually invest in automation, and there needs to be trust in the supplier".
With the momentum of automation increasing, comes a responsibility on the part of suppliers to advise and deal with professional knowledge, integrity and support for customers, with parts and expertise. To illustrate, Transplant Systems carries a significant parts inventory, including parts for a machine more than 30 years in the market.
Supply of expensive machines places a serious commitment on the company for service and support.
"Supporting the machines we sell is a big part of our business," Malcolm commented, adding that scaling up staff is allied to increasing numbers of machines supplied.
"Any company like us, in the automation space, relies heavily on our relationship with our valued suppliers, knowing the customer's business integrally, and to have a consultative relationship such that in the end, the customer is offered what they actually need to improve productivity and profits. So if we put machines in at level one, we're thinking at level six in terms of what automation is needed as they grow their business and scaling up exercise, and their automation needs fall into place."
So we need to understand our customer's business such that whatever machinery is purchased, that we install and train their staff knowing that machine forms part of a larger plan.
However, there is a risk that at the beginning of the automation 'journey', there can be differences between what the customer perceives they want and what really is necessary.
That's where an element of trust comes in because the spend could be significant money and they need to know they're going to be delivered a machine that will work for them.
While Australia's greenlife industry is still evolving, there is a new technically-minded generation coming through. Not surprisingly, Malcolm surmises that between a third and a half of their business is dealing with enterprises that are new to the automation space.
He cites Greener Growth Nursery in Sydney, where a legacy system previously requiring up to 10 people potting up by hand was replaced by an Urbanati potting machine capable of up to 4500 pots an hour, a big jump. Now that process engages maybe only two staff but with all those pots ('filled and drilled') coming off the exit conveyor, the machine has to be stopped and the pots allocated to growing areas. So a buffer table system will be needed to accumulate the filled pots. Beyond that, a method of moving the pots to bench or on-ground sites will be needed.
"That's a progression. But if we get it right in the first instance, we will be able to help the customer grow their business, like being a partner with them. Our core value is to always have that relationship with our customers, to understand where they are and where they're going."
Competition in this business is healthy for the customers. It's the customer's choice in the end, Alan said.
Efficient movement of plants is what we provide using machines and automation Malcolm said.

Nearly all the forestry nurseries in Australia and New Zealand have now moved to container production and, for any nursery, it becomes a mathematical equation – so many cells per tray, so many trays per bench, so many benches in the nursery etc, Malcolm explained.
"They can then deploy those benches and carefully work out their growing cycles and the data around growing efficiently."
But using just any old container is no guarantee, he cautioned, reminding us that well-designed cells will produce healthy seedlings. So, using well thought out cells made of long-lasting high-quality material, incorporating air pruning slots and appropriate tapering as examples, will deliver consistency. The ultimate aim is a cell that encourages good healthy root growth.
While automation equipment can be maintained and remain serviceable, older machines simply don't offer the technology of newer machines. Technical obsolescence and higher maintenance costs have overtaken the mechanical longevity of the 'iron horses' that still work but cannot achieve the numbers and efficiencies of newer systems.
"So the business case to buy a new machine is stronger now and continues to strengthen," Malcolm said.
Entry level for automation can start from as little as $5000 for a small needle seeder, which can be complemented by tray fillers, de-stackers and water tunnels in a myriad combinations. Entry level for potting machines could be $25-30,000, expandable as needed, up to perhaps a $200,000 potting line. Visual transplanters could be $300-400,000.
"Demand is at every level," Malcolm explained.
The visual systems incorporate cameras and technology, with grading capabilities of features such as consistency of leaf structure and colour, and the ability to reject or accept seedlings. Their recognition of these features across many species is now at a high level.
Like many technology-based systems, ability and affordability are converging.
"We're very fortunate really in being able to offer entry-level automation all the way up to advanced systems," Malcolm Calder concluded.