Interior plantscaping job opportunities and educators – it's a two-way street
By Gabrielle Stannus –
In 2020, Skills Impact facilitated a review of the AHC Agriculture, Horticulture and Conservation and Land Management Training Package offered through the vocational education and training (VET) sector. As a result, the updated 'AHCNSY208 – Maintain indoor plants' unit of competency superseded its predecessor on 23 December 2020. What does this mean for the interior plantscaping industry?
Recent student enrolments in AHCNSY204 and the associated AHCNSY204A peaked in 2016 at 614, compared with 370 in 2015 and 423 in 20191 [GS1]. However, since 2016 the number of students successfully passing these units has remained relatively steady, ranging between 351 to 377 per year2 [GS2]. It is likely that these students will end up in nursery or retail, rather than interior plantscaping, given how the new unit AHCNSY208 is being offered. According to training.gov.au, only two Registered Training Organisations (RTOs) are currently approved to deliver the updated unit of competency which is included in Certificate II in Production Horticulture, and Certificate II in Nursery Operations only.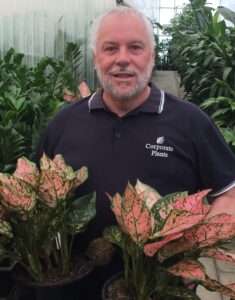 Cameron Iddles, President of the Interior Plantscape Association (IPA), claims that most interior plantscapers are recruited away from those courses. Cameron and his wife Bernadette run Corporate Plants, an indoor plant hire and maintenance business based in Melbourne since 1990. "We employ people who have a passion for horticulture," says Cameron, acknowledging that finding those people remains difficult in this industry. If Cameron needs to recruit a new employee qualified to a trade certificate level, then he looks for someone with a Certificate III in Horticulture, rather than nursery or retail. Under the revised AHC package, this person may not have had the opportunity to undertake AHCNSY208, i.e. have learnt how to maintain indoor plants during their formal training.
Like many other interior plantscapers, Cameron provides on-the-job training to fill these skill gaps. A new starter at Corporate Plants must firstly complete a three-month training program, working with either Bernadette or Cameron. Once this person has met basic competencies, they are then matched with a 'buddy', i.e. a fully trained and experienced plant technician, before they can work on their own. Cameron likens this in-house training program to an abbreviated apprenticeship. "Our staff have to know what makes a plant tick, and the range and common names of the plants we use," Cameron explains, "They also need to know how to scout for pests and diseases. And there is a lot of cleaning of plants involved in offices!"
Cameron is well-placed to offer this in-house training, having taught and lectured in plant science at both a diploma and degree level, including stints with the former Victorian College of Agriculture and Horticulture and its successor, the University of Melbourne. He is passionate about education and training. "In my role as president of IPA, I would like to see our industry become more professional and more educationally recognized," says Cameron, "However, I do note that that is a two-way street. Our industry needs to provide support to educators who may not have the intimate knowledge of what happens within interior plantscaping. Therefore, we need to offer our people to provide guest talks and resources to those institutions."
"We also need to promote interior plantscaping as an industry. The horticultural industry is a significant employer, and we are a subset of that," continues Cameron, "IPA's larger corporate members such as Frenchams, Tropical Plant Rentals and Ambius, employ many staff. Most of our smaller interior plantscaping businesses have at least some casuals on board. Education providers are looking to provide their students with opportunities to get a job. So, if we are not telling the educators that there are jobs in interior plantscaping, why would they bother teaching it?"
Gabrielle Stannus
Inwardout Studio
M: 0400 431 277
E: gabrielle@inwardoutstudio.com
Board Member, Interior Plantscape Associationwww.interiorplantscape.asn.au
---
References
[GS1] National Council of Vocational Education Research (NCVER) 2021, TVA subject enrolments 2015-2019 / Unit of competency by Year and Gender, VOCSTATS.
[GS2] NCVER 2021, TVA subject enrolments 2015-2019 / Unit of competency by Year and Subject result, VOCSTATS.