New CEO for Greenlife Industry Australia
Joanna Cave has been announced as the new CEO of Greenlife Industry Australia (GIA). Joanna brings more than 25 years leadership experience as CEO of a variety of peak bodies, member organisations and not-for-profit associations, firstly in the United Kingdom (UK) and from 2009 in Australia.
She also has experience working as a strategic consultant for the nursery industry at a senior business level. Leading organisations into new eras, has been a theme of her career as a CEO. Born in Yorkshire, UK, Joanna graduated from Ryde School of Horticulture, first in Horticulture and then in Landscape Design.
Strategy for the Australian native seed sector
The Australian native seed sector now has a 10-year Strategy providing a coordinated approach to growing the sector. However, it needs members of the native seed and plant production sector to participate and help drive its implementation.
As part of the national response to the 2019-20 bushfires, Greening Australia received $5m in initial funding from the Federal Government to co-ordinate and collaborate with the sector through Project Phoenix.
This project aimed to build and secure native seed and plant supply for landscape restoration, recovery and resilience in bushfire-affected areas and other vulnerable landscapes.
The Strategy for the Australian Native Seed Sector was one of Project Phoenix's most significant outputs. The Strategy sets six Strategic Objectives to deliver on its aims: quality, market coordination, information sharing, new industries, smarter regulation and sector leadership. "The Strategy aims to remove barriers and achieve outcomes to benefit the whole native seed sector and enable Australia to better manage the restoration and rehabilitation of landscapes and support biodiversity conservation," says Samantha Craigie, Project Phoenix's Project Manager from Greening Australia. Get involved in implementing the strategy by attending the first Strategy Implementation Event in March 2022.
For more information click here
'Forever home' for Swagman sprayers
Swagman Sprayers has announced plans for the future of the company which secures its longevity with escalated development of the product and retail outlets across the country.
Charles Sweeney, well known in the industry for over 50 years for his work in the plant labelling sector, and then with his Swagman Sprayers, has decided it is indeed time to retire.
"Leonie and I have been searching for a succession plan for our Swagman sprayers for the past year. Many came knocking on our door but we were determined to wait until we found the perfect forever home for the product that we have been devoted to for the past 10 years.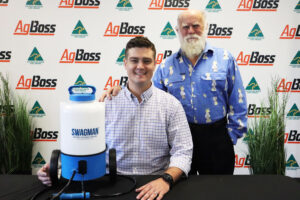 We were looking for an energetic and innovative Australian company working in the agricultural/horticultural industry that shared our business philosophies. We wanted to be absolutely certain that our customers would be looked after with dedicated care and the sprayers supported with professional and knowledgeable service. It took just one phone call, and we knew we had found just the right people. COVID got in the way of meeting Scott and his remarkable staff, but as soon as were able to travel to Albury NSW we were totally convinced. AgBoss indeed ticked all the boxes.
AgBoss is a well-known Australian owned and operated family business that has been an integral part of the Australian and New Zealand farm and hardware supply industry for decades. Today it is a thriving and innovative business owned and managed by second generation Scott Jensen. What we have learned is that the extraordinary AgBoss team is dedicated to producing quality, reliable and durable products. In addition, this group of diverse and dedicated professionals relish innovation and a challenge. We are confident Swagman is set to thrive in the years ahead. Our years in the green industry have been fulfilling and rewarding. Friends made will be cherished long into our retirement. You can't ask for more than that!" said Charles Sweeney.