The development of the blue kangaroo paw
By Digby Growns
All images are supplied by Kings Park and Botanic Gardens
Ground-breaking plant hybridisation research at Kings Park and Botanic Gardens in Perth, Western Australia, has produced a range of novel-coloured kangaroo paws including the first blue cultivar, 'Masquerade'.
A leader in Australian plant breeding research for decades, Kings Park has developed more than 50 cultivars of native Australian plants that are distributed and sold, in national and international markets, as both cut flowers and ornamental plants.
By developing new hybrids, Kings Park aims to encourage the community to plant native plants in their gardens and broader landscapes to provide a sense of place and positive environmental benefits. These benefits include reducing water and fertiliser use, minimising the need for chemical control of pests and diseases, and providing an urban habitat for birds, insects, reptiles and small mammals. This will create gardens that can adapt to our changing climate.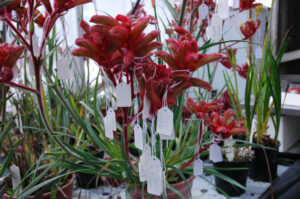 Plants chosen for the program require both sufficient genetic diversity within the main species or genus to deliver a large range of different styles and colours, as well as be able to be propagated easily. The plant breeding process typically involves the cross-pollination of parents with desirable features such as extended flowering, flower colour, inflorescence presentation, form, hardiness to cold and heat, and tolerance to arid conditions, disease and low nutrients. Tissue-culture and advanced genetic testing techniques are employed to assist in the germination and propagation of hybrid material.
Kangaroo paws (Anigozanthos species) are endemic to Western Australia and comprise eleven species including the iconic red and green Anigozanthos manglesii, which is Western Australia's floral emblem. The colours of the eleven species are mainly this red and green combination, pure green, red or yellow with red tinges.
Most species are fire ephemerals which germinate en masse following bush fires and die out within two or three years. The exception to this is the tall green kangaroo paw, Anigozanthos flavidus which is perennial in the landscape. Most of these fire ephemerals are susceptible to two leaf borne diseases, leaf rust caused by the fungus Puccinia haemodori and ink spot, caused by the fungus Alternaria anigozanthi which can make the plants unsightly and affect their survival.
The initial focus of the kangaroo paw breeding program was therefore to breed plants that were more disease tolerant under cultivation. The method used was recurrent selection, which is a system of developing superior plants with desired attributes through recombination of genes by inter-crossing superior lines selected on the basis of their physical attributes. The progeny are then crossed between themselves, other promising progeny or backcrossed to their parents.
Over about four generations, the kangaroo paw breeding program had produced a range of hybrids that were highly tolerant of these two diseases. During this process a number of novel-coloured hybrids started to appear, including one in 2013 with the first blue-toned flower. This hybrid, designated A12/61J, was startlingly different to any other flower colour that had been seen to date.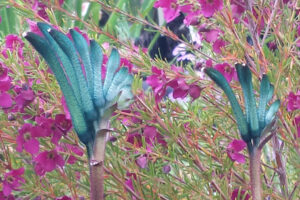 That particular hybrid was still highly susceptible to disease, however its breeding pedigree was reviewed and repeated until other blue coloured flowers started to appear, some with far better disease tolerance.
One of these disease-tolerant hybrids, A17/253A, flowered in 2018 and featured blue, green and purple flowers. It was sent to Kings Park's commercial partner, Ramm Botanicals, for further assessment. Due to the combination of the flower colour and disease tolerance, it was selected for commercial release under the Celebrations series and named 'Masquerade'. This hybrid is now commercially available in Australia and is destined for release globally.
Currently, the colour pigments in kangaroo paws and the metabolic pathways that produce them are unknown. The development of these novel-coloured hybrids inspired a successful submission to the Australian Research Council for three years funding to uncover the mysteries behind kangaroo paw flower colour. This research will be through a partnership led by David Field from Edith Cowan University, and includes Kings Park, the Department of Biodiversity, Conservation and Attractions, the University of WA and a number of other collaborators, with generous supporting funding from the Friends of Kings Park. Once these pigments and pathways are understood, the breeding program can far more efficiently target parental lines to produce elite cultivars with a range of novel colours, in a range of plant and flower forms. The research will also map the first entire kangaroo paw genome which will underpin unlocking the genetic and biochemical potential of this iconic WA genus.
Digby Growns
Senior Plant Breeder
Kings Park and Botanic Gardens