Introducing Distylium – The best plant you've NEVER heard of … until now!
Fleming's Nurseries, Australia's leading grower of ornamental, fruit and native Australian trees and plants is delighted to introduce 'Distylium,' an exciting new all-rounder shrub to the Australian market.
To quote legendary plantsman and breeder Dr Michael Dirr, "These are the best plants that you have never heard of."
An evergreen, low-growing shrub that does its job without fuss or fanfare and loves a tough situation, it is quite simply a garden must have. Originating in China, the plants have been refined through a breeding program in the United States where they have become an exceptionally useful landscaping plant.
Highly adaptable to a range of conditions including heat and drought, as well as wet soils and cold climates, Fleming's have found Distylium perform best in full sun to part shade positions but will also cope well in full shade.
According to Fleming's director Wes Fleming, Distylium is the best thing for Australian gardens since Fleming's introduced the Indian Summer range of Crepe Myrtle.
"I love these guys! They are just awesome 'doers'. We need shrubs that happily fill out gardens, are green, lush and soft looking, without becoming woody or 'tired' in a few years."
Typical of plants in the Hamamelidaceaefamily, they flower from winter through to early Spring, with small, inconspicuous, red apetalous flowers along the stem.
"The best thing about these guys is that they are so easy to grow. Once established, they require little to no maintenance. You don't even need to prune them unless you really like to get your secateurs out and cannot help yourself but really, they don't need any work. Just plant and forget them and they'll do their thing.
Fleming's are introducing two varieties this year including 'Vintage Jade' (PBR) and 'Cinnamon Girl' (PBR) with more expected to follow in coming years.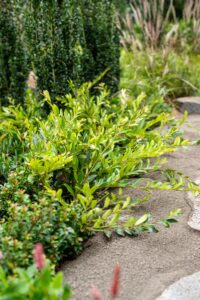 Distylium 'Vintage Jade' (PBR) First Editions® has a distinctive layered branching habit, forming a low spreading shrub. As a single plant, it will reach approximately 1.2m (H) x 1.5m (W).
Distylium 'Cinnamon Girl' (PBR) First Editions® has plum-purple new growth which turns blue-green as the leaves mature. Slightly smaller in size to its cousin, 'Vintage Jade'(PBR), 'Cinnamon Girl'(PBR) will reach approximately 80cm-1m (H) x 1.2-1.3m (W).
"These extremely versatile evergreen shrubs will be equally at home in domestic gardens and larger scale commercial landscapes. We have used them extensively through our trials and found them particularly ideal for mass planting in garden beds," said Wes.
Fleming's trials have also shown the plant to be extremely suitable for median strips and traffic islands, where they will provide deep green colour all year. They are also useful as a component of shrub borders and in mixed garden beds, where they will provide a background for other colourful foliage and flowers.
For more information contact Fleming's on 0397566105, or to pre-order your Vintage Jade' (PBR) today email sales@flemings.com.au.
Top image: Distylium in a landscaped garden
---