Size matters – Seeking correct information on plant dimensions
By Patrick Regnault
The placement of plants in a garden is what makes the design a success or a failure. It may not be seen straight away but as the plants grow, we may find that the small shrub we have used in a garden design is in fact a sprawling, 3m monster, or what was believed to be a small tree is in fact a large shrub.
Those errors are rarely made by seasoned horticulturists who rely on their experience or their gained knowledge to obtain appropriate information. The novice gardener or designer may have taken the first internet search as a reliable source without double or triple checking. Plant labels need to be viewed as general indications but may not be so accurate for specific conditions, mostly where dimensions are concerned.
Nothing will beat experience and local knowledge. Soil, micro-climate, wind patterns and water availability have a direct effect on how plants will grow. Height and width will vary wherever you are in the country, what will not vary is the growth type and habit e.g., a climber will not become a shrub.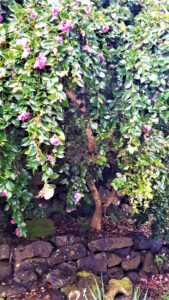 Tibouchina 'Peace Baby' is a lovely and profuse bloomer and in many parts of the country it may grow as indicated but in the rich, moist soil of subtropical NSW, it will reach a height and width of 2mx2m if it is not pruned back regularly. Magnolia 'Little Gem' is another plant that can reach a greater height than articles or labels indicate. Given time and good conditions, this tree can easily be over 9m tall although it is likely to stay narrower than your traditional Magnolia grandiflora. There is no conspiracy to mislead, plants simply grow to certain conditions. A long-lived plant will take decades to mature and reach its maximum size. This is mostly true for trees and plant breeders do not have the time to wait for 30 or more years for a tree to mature before putting it on the market.
The term dwarf is relative, as a dwarf version of a 40m tree could be 15m. Do not take the words out of its context. There is often reliable information on how a plant is likely to grow given the time and the right conditions. Magnolia 'Little Gem' was selected by Warren Steed in 1952 from seed collected at Candor in North Carolina, USA. Looking at what is known of mature trees planted in that area in the early 1960s, we can see that the height given by growers and landscapers there, of mature specimens are 6 to 9m tall by 3 to 5m wide.
Sometimes the botanical name can lead to wrong assumptions. The word repens means creeping, prostrate and rooting at the nodes. It does not always mean the plant is a ground cover but can mean the plant can spread via branches touching the ground. For example, Duranta repens/Duranta erecta is a large shrub to small tree, whilst Dichondra repens is a ground cover.
Knowing how and where to look for reliable information on plant sizes is not always as simple as a quick internet search. As an example, let's take Camellia 'Marge Miller'. The first results describe it as a ground cover growing 0.3m high by 2m wide. Looking further we can see it described as a low spreading plant with no dimensions given. A New Zealand site says 1m x 1m after five years. Looking at the US Patent we see it was developed by Clement Truran from Hornsby in NSW, by the controlled pollination of Camellia 'Showa-no-Sakae' seed parent by an unknown pollen parent in 1977. The main difference is in a more pendulous growth habit, and the form and timing of the flowers compared to the seed parent, but no mention of plant size. In the very rich soil of the Northern Rivers of NSW, Camellia 'Marge Miller' is 1.2m x 2m after 10 years, smaller than the parent plants but far from the ground cover first described.
Knowing where to seek information and what to look for helps with having an idea of what the new cultivar is more likely to be. Not fail-safe, but a clearer indication of the possibilities. New plants are always full of promises and excitement, and understanding how they will grow in a given location is where we need a more refined understanding.
Patrick Regnault FAIH RH0062
Interactive Landscapes
E: patrickregnault@hotmail.com
Top image: Tibouchina "Peace Baby" can reach 1.5m to 2m high given the right conditions