BARRICADE® pre-emergent herbicide delivering results in nurseries
With an extended label covering nursery weeds in potted plants, potting beds, garden beds under mulch, gravel paths and landscape settings, BARRICADE® herbicide is an ideal option for keeping your nursery free of weeds.
This industry-leading, pre-emergent herbicide, treats a broad range of nursery weeds and provides some of the longest periods of control in the industry, with up to four months' control in potted plants and six months in plant beds.
Liquid vs spreadable granules
While you may be used to spreadable granules, once you see how easy the liquid formulation is to use, along with all the other benefits, you will never look back. BARRICADE® has a high level of safety for perennials, trees, shrubs and grasses, and the spray application can be applied directly over the plants. It is a great option to use across a range of plants in nurseries, including species normally sensitive to industry-standard, spreadable granule formulations.
Application Tips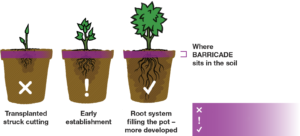 Ensure plants have sufficient root systems before applying BARRICADE®.
Adequate soil coverage is required, so take note of plant foliage.
• Where canopy size and pot size are similar, direct spraying with a single nozzle achieves targeted delivery with a very light post-application wash-in required.
• Where the foliar canopy is smaller in size to pot diameter and pots are closely spaced, an overhead application using a hand wand or spray boom delivers high levels of accuracy. Post-application irrigation is important to position BARRICADE® near the soil surface.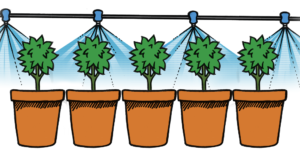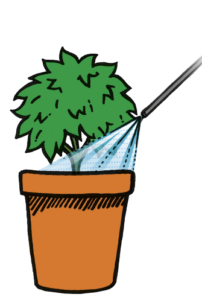 The right application and postapplication wash-in will deliver a solid weed control band.
• Good application and light postapplication irrigation will position BARRICADE® near the soil surface.
• Poor application and excessive post-application irrigation or rainfall means BARRICADE® moves lower into the pot.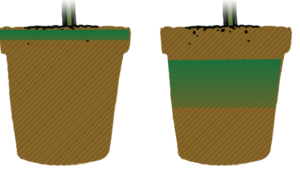 Efficacy with low rates
| | | |
| --- | --- | --- |
| Spray Unit Capacity | BARRICADE® Rate | Area Covered |
| 5 Litre | 40-80ml | 100m2 |
| 15 Litre | 120-240ml | 300m2 |
| 25 Litre | 200-400ml | 500m2 |
BARRICADE® can also be mixed with glyphosate to eliminate existing weeds and prevent new weed growth for up to six months, helping ensure your nursery gravel paths and grow-in pads are free of
weeds. For a 5L spray unit add 60ml of BARRICADE® and 50ml of glyphosate and for a 15L spray unit, 180ml BARRICADE® and 15ml glyphosate.
Apply directly to surfaces on a dry day and allow the spray to dry for 4 to 5 hours so glyphosate is absorbed. Within the next 7 days, wash in with 3mm of water (rain or irrigation) and enjoy a weed free
nursery for up to six months. Your recently potted plants will then grow and mature in a weed-free environment.
BARRICADE® is a simple and effective product to keep your potted plants and your nursery weed-free with these added benefits:
• Economical compared to granular pre-emergent herbicides
• Good environmental profile
• Exempt from poison scheduling, meaning minimal PPE required to be worn when applying and minimal
re-entry periods
• Low odour, non-staining formulation
• Very low phyto burn potential to foliage
• Reduces chemical exposure for staff, customers and the environment by reducing weed control interventions to twice a year for outside potted plants
• Flexibility to delay wash-in for a few days if necessary
I started using BARRICADE® just under two years ago. I believe this is a once-in-a-generation product. In today's nursery world, time is money and BARRICADE® has redefined our spraying schedule, reducing the number of times we spray plus providing a longer period between spraying. Simply, it saves us time and money. By combining it with glyphosate, it is also an effective short-term solution for immediate knockdown of weeds.
BARRICADE® is a versatile and safe product and we use it on our nursery surfaces, in and around buildings, and along fence lines to keep our nursery weed-free.
For further information click here

Mal Morgan
Glenfield Wholesale Nursery Pty Ltd