Calling all retailers, landscapers and designers!
Something very special is coming your way this spring
Introducing Zepeti® (Var. Meibenbino), a true innovation in the world of roses. What sets Zepeti® apart from other roses is its unique form, stunning health, incredible flowering capacity, low maintenance and amazing versatility.
This exciting and eye-catching plant is the missing link between the rose and hedging categories. Growing to only 40cm high and 30cm wide, Zepeti®'s compact upright habit is more buxus than rose. Add to that, a thicket of small, dark glossy leaves from the ground up and you have the perfect canvas to add a splash of spectacular colour.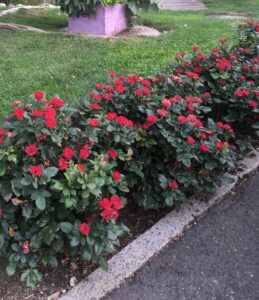 Masses of attractive fire engine red blooms are continuously produced over each plant for 9 to 12 months depending on the climate. The more subtropical, the longer the flowering. Forget the traditional rose tag, Zepeti® thrives in a broad range of climatic conditions, be it humid, heat or frost thanks to its inherent vigour and disease resistance. Few roses can beat Zepeti®'s ability to perform in practically every climate zone in Australia.
Whether used in a home garden or in amenity landscapes, Zepeti® provides ample opportunities to show off its growing credentials. Stunning as a border or low hedge, the compact upright growth ensures paths remain free for traffic, while the volume of flowers creates immense interest and energy, a far cry from the much-used English Box.
Balconies, decks and patios are perfect for a potted Zepeti® helping add a beacon of colour and beauty. You can also bring that pot indoors for up to a fortnight and enjoy the blooms.
Group plantings, whether in a park entrance, median strip or roundabout, really highlight Zepeti®'s benefits of super tough, long-term colour without the maintenance, plus it offers a great alternative to planting annuals twice yearly. Zepeti® is a wonderful problem solver and attractive addition to any amenity landscape.
There's little to do apart from the odd feed, deep water and mechanical trim annually. Most of the time you will be cutting off blooms in winter. Zepeti® makes life fun and easy!
Head to the Zepeti® website for more information (www.zepeti.com.au) or for growing enquiries, contact Kim Syrus from Corporate Roses admin@corporateroses.com.au