Balwyn calling: Maranoa a treasure of Aussie plants
By John Fitzsimmons
All Images by John Fitzsimmons
There are more than 140 recognised botanic gardens in Australia ranging from large internationally recognised sites to smaller gardens, specialised or of historical note. In Melbourne, the Maranoa Botanic Gardens in leafy Balwyn is a hidden gem not widely known.
Just 10km from the CBD and literally metres from iconic suburbia, the visitor to Maranoa Botanic Gardens can idyll through a range of contrasting natural landscapes and/or study one of the best collections of Australian plants in the country. Within metres of a classic central lawn the visitor can find themselves feeling isolated in rainforest, arid vegetation or sclerophyll forest. Various pathways can take you to a new climate zone, another stunning vista or dead-end solitude. And all this on a figurative postage stamp.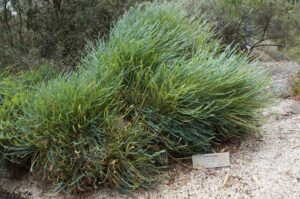 Located away from surrounding major roads contributes to a remarkable peace and tranquillity. It seems only lucky locals or those with a horticultural bent know it's there. However, these gardens date back to 1901 and have benefitted from associations with many leading lights in the world of Australian plants. So, for more than a century, Balwyn has been calling (with apologies to Skyhooks).
In 1901 Mr J.M. Watson purchased 1.4 hectares (3.5 acres) for a private garden on the north west side of the summit of what was originally called One Tree Hill, one of the highest points (altitude 118m) across 'old' Melbourne suburbia. Mr Watson apparently had a connection to the Maranoa district of south west Queensland*, hence the garden's name. He expanded the garden in 1911-12.
Apart from its early date, Maranoa was notable as 'an isolated campus, almost in the form of an experimental garden', poles apart from the old-world themes of nearby Canterbury where Watson lived. To put this into historical perspective, the horticultural use of Australian plants was still emerging although Federation and its elevated expressions of nationalism gave impetus to the use of Australian plants, especially the wattles. Mr Watson got species numbers up around 500 including many Acacia spp. Some of the original red gums (Eucalyptus camaldulensis) growing on the block remain. Mr Watson and his Maranoa Gardens were, as we say now, 'on-trend'.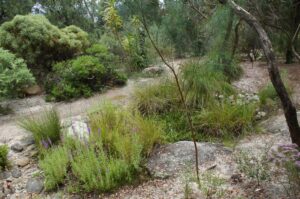 Initially the gardens were established using Australian and New Zealand plants. In 1917 the City of Camberwell (later merged with the cities of Kew and Hawthorn into today's City of Boroondara) purchased Beckett Park abutting Maranoa's eastern side, for public recreation. The City took public ownership of Maranoa Gardens upon Watson's death in 1926, a significant step because from this point on the operating policy was for Australian plants only with New Zealand species removed. In 1926 the gardens were formally opened to the public. In 1962 the original gardens were doubled in size by an expansion into the adjacent Beckett Park.
Today, Maranoa Gardens occupies 2.6 hectares on the north west slope of One Tree Hill. The original section of the gardens is approached from the western side through gates commemorating the work of Frederick Chapman, Honorary Curator in the early days of public ownership. The path ascends to the central open lawn boasting specimen trees, including Queensland Kauri and mixed tree and shrub borders. A Bangalow palm (Archontophoenix cunninghamiana) is said to mark the site of Watson's original garden shed.
The gardens now host about 2700 Australian plant species and about 5000 individual plants, most of them identified and signed. Plantings are in various climatic zone groupings, with temperate woodland and heathland on the upper slope on the east side, descending through arid zone plantings and then rainforest, to the dry sclerophyll forest on the northern side. A cottage garden and indigenous section complete the garden's plan. Maranoa's botanical collection is complemented by an indigenous flora reserve in the adjoining Beckett Park.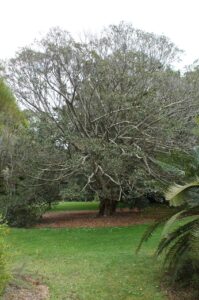 The dry sclerophyll and rainforest areas both include mature trees to 30m. Within the original rainforest area only (devoted to Warm Temperate Rainforest), there were species sourced from Errinundra, in 1988 as part of the Bicentenary Project, but many of them failed due to being on a north-facing slope. The rainforest area was redeveloped again in 2005 to include species from Dry Rainforest, Littoral Rainforest and Subtropical Rainforest, to provide better protection to the remaining Warm Temperate Rainforest within.
A small pond remains from an early fernery collection.
Maranoa has a history of dedicated horticulturists, staff and gardeners that provided stability to the garden. Bob Bury was the longest serving head gardener at Maranoa (1937-68). Current curator, Paul Birch has now been at Maranoa for the last 21 years, while also overseeing several other sites for the City. His background is in applied biology complemented by studies in horticulture, resource management, environment and landscape design and construction. Both Paul, and Andrea Dennis noted for her great knowledge of Australian plants, have been horticultural specialists at Maranoa Gardens for more than 21 and 25 years respectively. With the addition of conservation trainee Kathryn Dallimore, it is hoped the trend will continue.
Over the years many notable horticulturists have also contributed to the Maranoa Gardens story, including Ivo Hammet, Arthur Swaby, Charles French Jnr, and Ernest Lord. Rodger and Gwen Elliot (both awarded Orders of Australia) have also long been active supporters of Maranoa.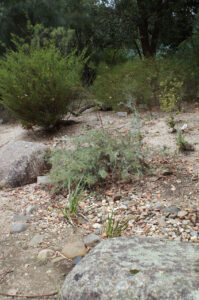 "Originally trees and shrubs were planted into remnant wildflower grassland," Andrea said. "The major change took place during the 1960s when the lawn area was rotary hoed and seeded with exotic lawn species. The circular pathway was also put through then."
"It's been cultivated a lot since but we still retain areas which would still be almost exactly what Watson was dealing with", Paul added.
"It can be a difficult site. There are areas of good soil and areas of poor soil and it's on top of a hill. There are all sort of changes and variations that we try and utilise to make our 'zones' better."
The resulting micro-climates allowed many plants to flourish in this pocket of suburban Melbourne that would otherwise be difficult to grow. Small waterholes and drainage lines host aquatic and semi-aquatic plants.
For example, the arid zone is mostly for West Australian plants and plants regarded as more challenging. To improve successes, plants grafted onto rootstock that are more suited to Melbourne's climate are tried.
"It was redeveloped in the 1980s from an earlier rockery. We imported sand and removed a lot of overstorey trees to improve light penetration. It's on the north-facing side so it gets plenty of sunlight, and we used a reflective white mulch to reflect the heat – we still do," Paul explained.
"We've got a heathland, also dating from the 1980s, using raised beds and a rock mulch. The beds are good for drainage while the rock mulch we found good for letting in the little rain that did fall. That's one of our most successful areas, that and the arid zone."
Maranoa is security fenced and locked overnight and there is often someone present, so major damage is rare.
"We are working in an area where 99% of people love it and come up to us daily and say, 'we love this garden'," Paul said.
Maranoa is clearly a botanical site and not intended for vigorous recreational pursuits.
"We don't have to promote Maranoa much. I think we have the numbers we need in this garden otherwise it could become over-crowded. We have brochures, self-guided tours, things like that. We could go overboard and make things uncomfortable; we've done festivals and theatre but not huge numbers, maybe twice a year. During COVID-19, visits tripled during harsh restrictions and while technically still in the pandemic, visitation numbers have returned to 'normal'."
Paul pointed out that, all along, they had done everything a 'botanic garden' does, but it was only last year that Maranoa Botanic Gardens became an officially registered place name under the Register of Geographical names (Victoria) although ANBG has always recognised Maranoa as a botanic garden. That recognition may help Maranoa put in a little more in future. The office is now incorporating more resources for interpretation, for example, a Maranoa Gardens Florilegium has also been published featuring the work of 12 local artists.
"Because we're on a hill, we've got an opportunity to capture water and utilise that, for example. It will be good to demonstrate sustainability and water saving, because we are what we are, we do use quite a bit of water – that is an issue", Paul says.
"We have a pretty hard underlying clay layer that doesn't absorb moisture unless it's had a lot of rain, hence we have some big trees that have got through that clay layer, but smaller plants on top of it have difficulty. That's the challenge with irrigation – are you going to make these plants think they'll get water all the time or are you going to make them grow down?"
"One of the things we discovered in the heathland zone by using coarser rock mulch, was that it allowed any moisture that comes along to infiltrate, whereas organic mulch tends to absorb it and act as a barrier to infiltration. That's why we only have one section of dripline while the rest of our huge irrigation system is overhead sprinklers", Paul said.
"Afternoon light seems to bother some of our plants – it's a long day for them," Paul commented.
"But we'll try anything", he went on. "Sturt's Desert Pea we grow in pots because it won't grow very well in our arid zone. We've got rainforest trees sitting out in places where you wouldn't expect them to survive, but they do. Once we could grow waratah nearly anywhere but, with climate change, we now only grow them in a semi-tropical zone. It's about understanding your plants, the soils – everything."
"Wattles do very well, we have more than 280 species here, it's a good collection. We have some unique rainforest species but, compared with the way they grow in their indigenous areas, ours are small and stunted in comparison. A number of Queensland species on the site may reflect Watson's historical links to the Maranoa region in that state."
"We do try and get plants that, maybe if you thought about it, you wouldn't put them in. We look for hardy species. And we like to have a range of cultivars to keep up with what's going on but there were no commercial trials."
"There is a trend in botanic gardens to have things that will survive climate change. However, I see the role as creating conditions that will host plants susceptible to climate change and allowing them to grow because we will need to see and interpret them in the future. Like zoos, it's a bit more about conservation than purely adaptation. The rare species are rare for a reason," Paul observed.
ANBG new plan
The Australian National Botanic Gardens is preparing a new management plan. The plan will set the direction for the future of the gardens and guide its management from 2022 to 2032. The Have Your Say period ran for 30 days until recently.
Defining botanic gardens
Botanic gardens are institutions holding documented collections of living plants for the purpose of scientific research, conservation, display and education. In 2018, BGCI updated the criteria that define a botanic garden to have a greater emphasis on conserving rare and threatened plants, compliance with international policies and sustainability and ethical initiatives. The following criteria may be met in part or whole by any institution that is considered to be a botanic garden:
A reasonable degree of permanence
An underlying scientific basis for the collections
Proper documentation of the collections, including wild origin
Monitoring of the plants in the collections
Adequate labelling of the plants
Open to the public
Communication of information to other gardens, institutions and the public
Exchange of seed or other materials with other botanic gardens, arboreta or research institutions
Undertaking of scientific or technical research on plants in the collections
Maintenance of research programs in plant taxonomy in associated herbaria
Ref: IUCN Botanic Gardens Conservation Secretariat, Kew, Richmond, UK (1989) on www.anbg.gov.au February 2021
*Historical archives record a Mr J.M. Watson Snr as manager of Toomoo Station in the Maranoa region for 17 years from the 1860s, when the station was owned by the City Bank.