Great timing for Landscaping Show
Report by John Fitzsimmons –
Given the challenges of the last two years, organisations like Landscaping Victoria Master Landscapers (LVML) must have been sweating on ultimately delivering The Landscape Show 2021 at Caulfield Racecourse in Melbourne recently. As it happened though, all organisers, sponsors, exhibitors and attendees fortuitously found a window ahead of the (yet another) COVID-19 lockdown and some extreme winter weather events. If you were involved in landscaping and 'coodabeen' there, you 'shoodabeen' there.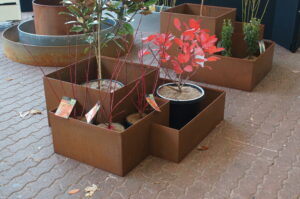 This event's exhibitor list has steadily grown over time to be within sight of 100 and registrations continue to increase into the orbit of 1500 people. For an industry-focused, one-day event held mid-week, they're not bad numbers. Those attending are those who matter – those who supply the industry, design and implement the projects, and the next generation of landscapers and designers. The numbers also give attendees a good opportunity to get some one-on-one interaction with exhibitors, and exhibitors enough time and resources to handle existing and potential clients.
And there's something about racecourses that works very well for such events. There's usually a defined and secure perimeter, indoor and outdoor areas, flexibility of space, catering and requisite amenities on-site, etc. In Victoria, we've seen this overtime at Caulfield, Moonee Valley, Sandown, Mornington, Werribee and Cranbourne.
While the weather was cold, it was after all, winter in southern Australia. The outdoor areas of undercover hardstand hosted mostly machinery and heavier hardware, and material exhibitors. Among them was FormBoss steel garden edging who introduced new 3-tiered planters in round and square formats. These complete multiple-compartment sets of weathered steel Redcor® finish, do not need stakes or anchors and provide an instant multi-level site for herb gardens, vegetables or small trees such as dwarf fruit lines. Large versions present depths of 580, 390 and 290mm, while small versions are 390, 290 and 230mm, respectively.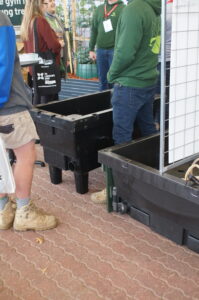 Nearby was another system to accommodate plants albeit production, instead of presentation, oriented. The Foodcube wicking beds by Biofilta are right on trend for home and communal food production being made of recycled plastic waste. They are available in two sizes – 1150mm square and 1150mm by 670mm 'slim' with capacities of 330 litres of potting mix/growing medium (110 litres of water) and 150 litres/74 litres, respectively. Optional legs raise the Foodcube's height by 200mm, while side cladding of rustic iron or recycled plastic are available to improve the aesthetics. A 105cm high trellis panel is available as an accessory for vines and taller crops. A special wicking mix is also available to get projects growing.
The water storage capacity can be seasonally adjusted (increased in summer, reduced in winter) by simple rotation of the overflow outlet. Trial units have apparently worked well, with just periodical additions of nutrient to rainwater directed to the beds from roof downpipes.
The Foodcube has found early interest from councils and community gardens/gardeners, although sales into the consumer market will no doubt also attract interest due to their productivity combined with quick and easy setup. When 'loaded' the Foodcubes are readily relocated by forklift.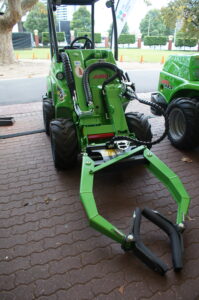 Bulk handling and environmental issues have also been addressed in the new Avant E Series fully electric loaders. Made in Finland, these zero emission and low noise level machines are ideally suited to work indoors and around people. Their capabilities and attachments are especially matched to handling grow bags on tree and shrub production sites, and bulk materials such as potting mixes and mulches. Naturally, they also fit well into landscape construction scenarios, especially in urban situations where a clean, quiet operation is favoured. There are 2 models:
e5 is equipped with a maintenance-free Absorbent Glass Mat (AGM) battery that can be fully charged in 5 hours, and works between one and two hours.
e6 is the first compact loader with a lithium-ion battery. It can be fully charged in just over an hour and operates between 2 to 4 hours with a full battery. This practically allows a full work day when re-charging is conducted during a lunch break.
Lift capacity is 900kg. Machine width is 1290mm and length 2550mm which, combined with articulated steering, means work in relatively confined spaces is possible.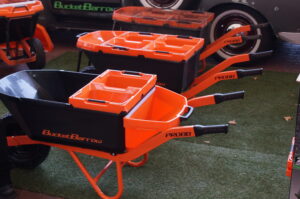 At a more human scale, the Bucket Barrow combined the traditional wheelbarrow idea with 4 specially integrated and removable 15 litre 'bucket' compartments, and a 12-litre scoop-style bucket aids the transport of larger or mixed loads. Think one trip that could take potting mix, small tools, mulch and greenlife right to the requisite site in individual carriers. The Urban88 and Pro88 models are a starting point. When more capacity and robustness is needed, there's a Pro130 model with either single or dual wheels, a 130 litre overall capacity, stronger construction and even bigger buckets and scoop.
While the cool weather didn't inhibit interest in the outside displays, indoors was understandably busy with exhibitors of greenlife, technology, services and a surprising range of other landscaping inputs and materials, including a program of practical lectures. Hort Journal Australia was an event Media Partner. Interest in our sister project plantselect.com.au was elevated, particularly when visiting landscapers and garden designers came to better understand how easy PlantSelect made it for them to competitively source their projects' greenlife requirements to their specifications.