Looks like a Tibouchina but tastes like a jam!
By Bruce Thompson –
Common Name: Blue Tongue, Native Lasiandra, Indian Rhododendron, Malabar Rhododendron, Singapore Rhododendron
Genus: Melastoma
Species: malabrathicum subsp. malabrathicum
Family: Melostomaceae
Origin: A pan-tropical species occurring in open forest and disturbed rainforest in north Queensland, down to Kempsey in New South Wales, the Kimberley region in Western Australia, the Northern Territory as well as Indomalaya and Japan.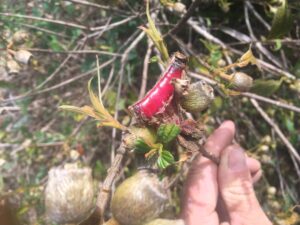 Characteristics: Melastoma has flowers easily confused with Tibouchina, having five petals, pink, white, or purple in colour, and being 20 to 30mm in diameter. Their leaves have 3 to 5 distinct longitudinal parallel veins. Woody, globose, seed capsules open from spring through to autumn to reveal a blue-purple aggregate fruit surrounded by a red edible pulp that stains the mouth blue when eaten, hence its common name Blue Tongue. The fruit is adored by birds and possums which peck and claw at the woody capsules to get to the delicious fruit.
The weedy Melastoma candidum (Asian Melastoma) looks very similar to M. malabrathicum subsp. malabrathicum, and is spread by birds forming dense thickets in tropical and sub-tropical zones.
M. candidum is identified as having a deeper purple flower with its leaves having five distinct longitudinal veins. M. malabrathicum subsp. malabrathicum grows 1-2m and has a more rounded habit than other native Melastoma species.
Uses: An ideal native replacement for Tibouchina, Blue Tongue can be used to create an informal hedge or screen. Its fruits make a piquant-tasting jam or can be eaten raw. The red pulp can also be boiled to make cordials. Both the blue-purple fruit and red pulp were traditionally used as dyes.
Propagation: By seed and cutting.
Availability: Brisbane's Paten Park Native Nursery (T: 07 3300 6704), Daley's Fruit Tree Nursery (T: 02 6632 1441), Mackay Regional Council Nursery (T: 1300 622 529)
Bruce Thompson
M: 0404 806 022