Using plant selection as a tool for butterfly conservation
By Tyson Felix –
It's certainly not a revelation that pollinator species are under increasing strain in recent years. It's a topic that has been keeping people up late at night and while there is an impressive diversity of insects of value that frequent the garden, none seem to hold a place in our hearts as much as butterflies.
Though they are present most of the year in smaller numbers, butterflies are unmistakably the "town criers" of the pollinator world, decreeing that the warmer months have finally arrived. Although ostentatious, these exquisite creatures are just as fragile as the rest of the insect world.
For much of the general public, the overall decline of insects may seem like a recent worry, but the Journal of Insect Conservation published an article as early as December 2002, highlighting the conservation concerns of butterfly populations in urban areas around Australia.
In addition to climate change, a culmination of factors has contributed to the decline, including limited water resources, expanding residential areas, the destruction or alteration of natural systems, and the lack of essential food and host plants, many of which are native and possibly endemic to certain regions.
This may sound depressing and out of our control but there are actions that can be taken by a single person, a commercial business or even a local council when it comes to boosting the numbers of these little attention-seekers (and of course welcoming them into our green spaces).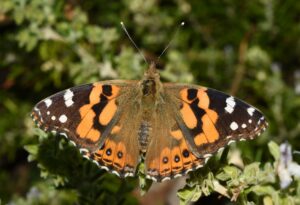 One of the most important aspects of bringing any kind of wildlife into your garden is water. Hydration provided in a number of ways and at varying heights, provides a diversity of choices depending on the needs of who you are trying to attract. In the case of butterflies, wide, shallow dishes, preferably kept shallow with damp sand or clay are perfect because of the insects' fragility. Keep these near the ground in sunny open areas that are protected from strong winds and pets, and it won't take long for flighty friends to take notice. Other than water, the best thing anyone can do is provide a diverse and ample array of both host and food plants. There are many unique and specialist relationships between butterflies and their host plants, many of which are widely available plant species that can be found naturally throughout most urban areas in Australia. The following are some of the best plants for the garden which display significant ornamental and productive value, while aiding in the battle for the butterflies.
Scaevola albida
There are various forms of Scaevola that are found all over Australia, however, Scaevola albida can be grown in a range of habits in virtually all states and territories.
A dense, sprawling groundcover that is quite at home in sunny well drained positions, it does particularly well in rockeries and hanging baskets, and rewards you with an impressive show of small, nectar-rich, fan-like flowers for most of the year. Scaevola is both a host plant and nectar plant for the meadow argus (Junonia villida calybe).
Hardenbergia violacea
An increasingly popular evergreen climber, often found as a climber or clambering over the ground. It is found in all southern and eastern states, from the mountains to the coast but is most at home in open forests and woodlands.
Blooming with impressive lilac, pea-like flowers in spring, which are a magnet to pollinators, this reliable beauty is both a host plant and nectar source for the grass blue butterfly (Zizina labradus).
Chrysocephalum apiculatum
Common everlasting daisies are a reliable garden ally that will tolerate even the harshest conditions. Found in all states and territories and growing up to 60cm high, means it's great along driveways and borders where it can tolerate being exposed.
A profusion of golden button-like flowers appear in spring and summer, and provide an excellent nectar source and host plant for the renowned Australian painted lady (Vanessa kershawi).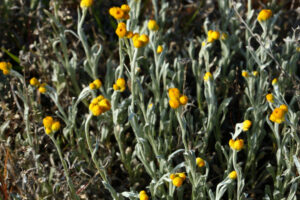 Themeda triandra
Lovingly known as Kangaroo Grass due to the paw like appearance of the seed heads, Themeda triandra is a widespread perennial grass found in all states and territories.
The species is not prone to spreading aggressively, making it ideal for community spaces and low maintenance areas. The tufted, flowy seed heads take on a vibrant, rusty colour when drying out, giving it exceptional ornamental value. Useful for rockeries or waterwise gardens, it becomes quite drought tolerant once established and is happy in full sun to part shade, in a variety of soils from sand to heavy clay. Kangaroo grass is a host plant to wide range of butterflies including common and ringed xenica (Geitoneura klugii and Geitoneura acantha), common brown (Heteronympha merope)and southern dart (Ocybadistes walkeri).
Atriplex semibaccata
Berry saltbush, and its close relative, old man saltbush (Atriplex australasica)are both edible low shrubs found in most states of Australia. The berry saltbush produces berries with a sweet and salty taste, while old man saltbush is best used with its leaves as a herb for lamb and poultry. Quite at home in most soil types, they are best known for their ability to tolerate salty soils, making them ideal for coastal gardens or those interested in native food gardens, and provide a valuable nectar source for the saltbush blue butterfly (Theclinesthes serpentata).
Acacia pycnantha
The Golden Wattle, along with all wattle trees, are a sight to behold when they are in their full flowering glory, particularly when grouped together when they provide a golden display like nothing else. Wattles are found in all states and territories, and there are varieties and cultivars to suit any situation. Acacias are a host and abundant nectar source for multiple butterfly species. Regardless of the situation, native plants don't have to be just for that forgotten corner of the garden. Giving our native stunners the spotlight in the garden can look great. They help our winged warriors not only survive, but thrive, and taking up permanent residence, butterflies themselves add to the ornamental value of our green spaces.
All photos credited to Flickr members www.flickr.com