Selection of advanced trees requires forward-thinking
By Karen Smith
Selecting advanced trees for a landscape design requires forward-thinking for an outcome that is a win-win situation for both growers and landscape architects, but most importantly, the client or end user.
Like any design, whether it be landscape, building or fashion, designers aim for a design that is unique and by putting their own stamp on the project, sets them apart from others. We certainly do see some absolutely stunning designs, as Australia has many award-winning designers.
Designing a landscape that is unique does not necessarily mean that you have to use trees that are 'different' or have not been used in other designs. It is more important that those particular trees fit the purpose and how they are placed in the design. We don't want to see trees decline over time.
Selecting advanced trees requires forward planning and thinking outside the square. I spoke with grower Matt Davis from Established Tree Transplanters & Nurseries, who have been supplying advanced trees to the Australian market for over 40 years. He said producing a 5m tree is an 8-10 year project, particularly for deciduous trees, while native trees may take less time.
Quite often the request for advanced trees only gives two years notice. Matt suggests the earlier the communication between designers and growers, the better. Forward planning is essential.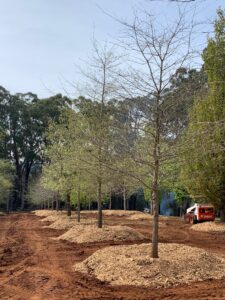 Growers have to be mindful that the time they are investing in growing advanced trees is going to be practical and will produce trees that will suit the purpose, and stand the test of time. Many of the trees they grow are more common varieties because they are tough and will be suitable in the future. Everyone wants to see the trees survive.
Growers know their trees and what will work where. Matt suggests that designers are best to communicate with growers because trees that you may see in a design in inner city Melbourne could be totally unsuitable for the foreshores of Darling Harbour in Sydney, or regional areas of the country. Growers will help designers through the process and find the right tree for the environment. Don't worry so much about the tree's name, discuss what the desired outcome will be.
Quite often it comes down to selecting what is available at the growers, and at times plans may need to be amended to suit. Having this discussion well in advance will overcome a lot of the time and energy that is wasted amending the plan. Matt advises that securing your plants pre-project is crucial, so that you aren't disappointed.
Provide the grower with as much information as possible, e.g., the horticultural and cultural constraints, climatic conditions, full sun or shade, evergreen or deciduous, form or habit, broad canopy for shade, narrow upright trees, leaf colour or shape, flower colour. In other words, all the attributes of the tree needed to suit designer requirements. Once the grower has all this information, they can help you with the most suitable tree for the job.
Matt suggests building a strong relationship with growers so that they fully understand your needs.
PlantSelect.com.au is a good place to start to find out about those tree attributes, and it can put you in touch with the growers. Growers of advanced trees understand which trees will work, so be sure to connect with them at the beginning of a project and not at the last minute.