Wild meadow – spectacular diversity
By Kayte Wilkie
Meadows create a floral frenzy as well as a pollinator's heaven.
Being immersed in tall flowers, colour and scent is one of my favourite childhood memories. Within the Royal Botanic Garden Sydney, we have created a garden that is a little wilder than other formal areas. From humble beginnings, when a horticultural apprentice presented this concept, to the present, four years in, the Wild Meadow is creating a beautiful space for all to enjoy and meander through, and one I am glad to be part of.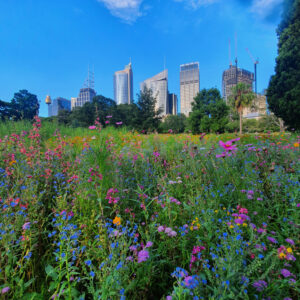 In the initial years of establishing the Wild Meadow, there were a few disappointing moments, with insufficient preparation leading to weed outbreaks combined with the destruction of seedlings caused by birdlife, who saw it as a free buffet. Seeds also went on a little adventure and were washed away with torrential rain.
Through addressing previous issues with determination, enthusiasm and research, we homed in on improving soil preparation, collaborating with meadow seed experts to select appropriate seed combinations for longer floral displays. This, and adding netting for protection in the early stages, has all proven to be successful.
The Wild Meadow is 2000 m² and has over 60 varieties of annuals and perennials, using plant diversity to encourage a variety of pollinators and beneficial insects. Native beehives containing Tetragonula carbonaria have been installed around the gardens to assist with pollination,that have and to show visitors what native bees look like. There are currently seven hives installed within the RBG.
Understanding germination and flowering times for so many varieties of annuals required time and patience. In the latest display we chose proven winners, consulting with seed professionals regarding mixes that have sequential flowering times, to ensure there is always colour shining though and flowers in bloom.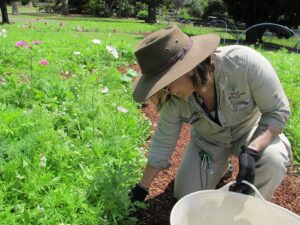 We sowed in August, to peak in December. Our process starts by calculating the size of each bed to establish the number of seeds required and mixing the seeds with a peat mix to assist with the broadcasting. Rolling it in to ensure contact with the soil improved the germination rate. We then lightly watered the seeds in with a gentle shower, applied sugar cane mulch and watered in again. Using this method prevented the seeds from drying out quickly. Less water was used, and our success rate was 90%. Grasses that popped up in the early stages were sprayed with one initial selective spray, then the healthy robust annuals spread their foliage and took over.
Caterpillar outbreaks were identified early and the release of parasitic wasps was part of our Integrated Pest Management plan to control them.
The Wild Meadow currently has four seed blends mixed throughout, to provide a variety of heights and to achieve a constant change of complementary colours. Perennials were included to extend the display.
The 'All Round' mix has a rich blend of colours with 32 varieties of annuals and perennials including Chamomile (Matricaria chamomilla), Crown Daisy (Glebonis coronaria) and Canterbury Bells (Campanula medium). This blend has constant surprises as some flowers fade while others pop up, allowing the taller plants to take advantage of the larger space.
The 'Bee Friendly' blend attracts the pollinators. In the morning, the Wild Meadow is literally buzzing. This blend contains 17 species of annuals, Wild Bergamot (Monarda fistulosa),California Poppy (Eschscholzia californica) and Menzies' Baby Blue Eyes (Nemophila menziesii) to name a few.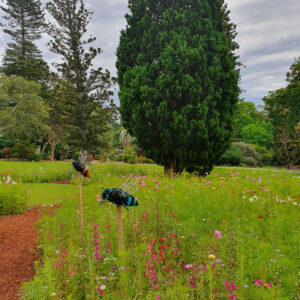 'Ground Cover' blend has 20 varieties ranging from 20-40cm in height. This blend was sown on some of the perimeter beds to hug the taller beds for perfect photo opportunities. The first complementary pop of scent and colour includes Sweet Alyssum (Lobularia maritima)and Toad Flax (Linaria maroccana).
After noticing in previous displays that the sun loving annuals struggled in certain pockets, 'Made for Shade' blend was sown. This has made a difference and ensures that all beds look amazing. There are around 28 annuals in this mix, comprising Toad Flax (Linaria maroccana), Virginian stock (Malcolmia maritima), Dwarf Morning Glory (Convolvulus tricolour), Marigold (Tagetes sp), Candytuft (Iberis sempervirens), Zinnia, Silene, Coreopsis and Daisy (Dimorphotheca ecklonis) which lasts about 12 weeks.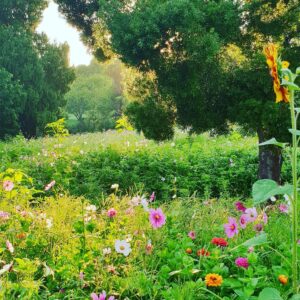 The number of visitors that use this space is overwhelming. From children playing hide and seek to photo enthusiasts aiming for that perfect shot of flowers with the city backdrop, and visitors wanting to know how they can create this at home. Educating children and school groups, on the importance of plant diversity so we can fuel pollinators and link the importance of pollinators to food production, is rewarding.
The meadow invites you in, letting you appreciate the beautiful colours whilst navigating your way through the paths, allowing you to admire and get up close to buzzing pollinators, and be immersed in greenery scent and colours.
Kayte Wilkie
Supervisor Horticulture
Royal Botanic Gardens Sydney
T. 0448 816 975Kayte.wilkie@botanicgardens.nsw.gov.au