Label: Callistemon citrinus 'Demesne Rowena'
ACRA Registration 330 (October 1989)
Family: Rutaceae
Origin: Callistemon 'Demesne Rowena' is a manipulated cross between Callistemon 'Splendens' and Callistemon 'White Anzac'. These are both forms of Callistemon citrinus. The cross was performed by Mr. H. Infield of Demesne Farm, Coomba Park, NSW in 1979. Registration first applied for by Mr. H.S. Infield.
Characteristics: This cultivar grows to 1.5m tall by 1.5m wide. It has a fairly open habit. The flowers open to a deep red and lighten as they age to deep pink. Other features of the plant are as for Callistemon. citrinus.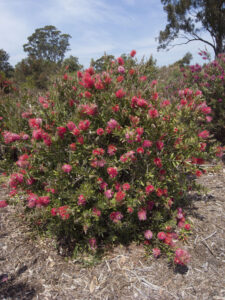 The cultivar is another very attractive colour variant of Callistemon citrinus. The flower colour changing from red to deep pink is a very distinctive feature of the cultivar compared to the deep crimson of Callistemon. 'Splendens' and the white flowers of Callistemon. 'White Anzac'.
Cultural notes: Callistemon 'Demesne Rowena' requires the same cultural conditions as C. citrinus. It is tolerant of drought and frost.
Propagation: This cultivar is easily propagated from cuttings.
Uses: As part of the shrubbery, screen planting or as a showy feature plant.Availability: Available from a range of garden centres and nurseries throughout southern Australia. For other suppliers, search on PlantSelect.com.au