Queensland Garden Expo gives a welcome boost to the economy
By Karen Smith
As I made my way around the recent Queensland Garden Expo held in Nambour recently, I observed that this was an event for true gardeners with a thirst for horticultural knowledge from the best in the industry. This annual event has reached its 37th year. So what makes this expo Queensland's most visited event?
'Knowing your audience and what their expectations are" said Event Manager, Marion Beazley. Marion said they have collected a lot of data and have surveyed the event for years asking visitors what the main reason was they came to the expo. "There was usually half a dozen or so reasons such as a nice day out, children's activities, listening to speakers etc., but the answer at the top of the list was the variety and range of plants available. Then a few years ago that changed and the reason at the top of the list is now the speakers program," said Marion.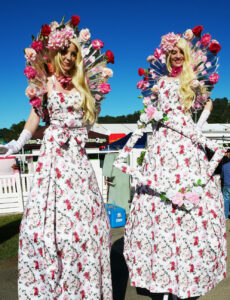 Marion does look for the best speakers, those who are the best at what they do. Over three days there were over 120 talks from 40 speakers, covering topics from food foresting, productive gardening, weeds, worms, bees and propagation, topics you would expect to see at a garden show. What I thought was a bit different were topics such as those that covered gardening for mental health, flooding and waterlogging, turning your garden into a carbon sink and making a positive contribution to climate change.
With seven speakers' pavilions, I was amazed that the seats were full and yet there were people standing around the perimeters, engrossed in what the speakers had to say.
The Pavilions, named Poinciana, Jacaranda, Banksia and The Terraces, held a variety of speakers covering topics from entomology to photography. The thirst for knowledge was inspiring as the engagement and interaction with the audience demonstrated. Other popular programs were:
The Cooks Garden had topics such as edible weeds, permaculture and medicinal herbs and edible flowers.
The Kitchen Garden covered a variety of topics including creating small-scale forest in your backyard, wicking beds and keeping chickens.
The Living Backyard was interesting with talks on biodiversity, bush foods, native bees and flying foxes, and Indigenous culture and their perspective of caring for country.
Many of the team from Gardening Australia, such as Queensland local, Jerry Coleby-Williams, and Millie Ross, Sophie Thompson, Phil Dudman and Costa Georgiadis just to name a few, gave presentations. Garden clubs and Friends of the Botanic Gardens and various plant societies exhibited, attracting visitors to their stands with colourful displayers and some truly exquisite plants. Sponsors ran workshops and exhibitors demonstrated their wares.
Several visitors I spoke with said they love the quality of the plants and I would have to agree. Selling plants is limited to Nursery & Garden Industry Queensland members.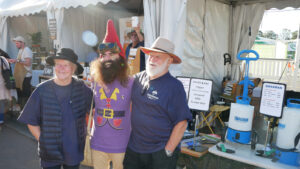 Growers are able to get feedback from customers too, and Bronwyn Hillyer from Dracaena Farm said their staff really enjoy hearing customers say how beautiful their plants are. Production nurseries don't usually get to speak with the end user.
It is always a good sign when people arrive with their trolleys and leave with them overflowing, and that was the case at this expo.
During the pandemic many people have turned to gardening, so to be able to attend a garden expo of this calibre is important to people. When people are investing in plants they want to learn how to grow and care for them, and they came to the right place.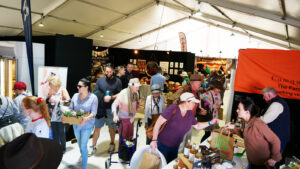 Its no surprise to industry people that these events are important, and not just for our industry but for the economy. With many visitors from out of town and interstate, travelling to such events brings millions into the local economy by way of accommodation, restaurants and transport.
Supporting these events keeps our industry in the minds of consumers and at the end of the day, without them we don't have an industry.
Book your exhibitors' spot and put the event in your calendars for 2023. Don't miss the opportunity to visit some of your Queensland clients and take in some sunshine.