Landscape Show a one-stop show for innovation, new players and networking
By John Fitzsimmons
Melbourne's Caulfield Racecourse recently hosted the 5th Landscape Show, a unique trade-focussed event in Australia that has certainly hit a sweet spot with landscape suppliers, designers and tradies.
Despite the high demand calling people to work sites, and a challenging Melbourne winter, the landscape sector, exhibitors and visitors, really seem to have embraced this event and the Caulfield indoor-outdoor site works well. From government departments to greenlife, landscape hardware and software, as well as mobile capital equipment, it's a real one-stop catch-up shop for innovation, new players and networking. The seminars and on-stand practical product demonstrations and explanations are highly popular.
This year there was more greenlife among the exhibits than the 2021 show, a positive trend that needs to be sustained into the future to maintain our industry's complementary relationship with hardscaping elements.
If there was an identifiable theme running through this year's Landscape Show exhibits, it was sustainability, especially aids to plant establishment and water conservation.
Helping plants grow
For example, the soil conditioning technology TerraCottem©, first developed in Belgium about 30 years ago, is now offered in Australia as a range of products marketed through StrataGreen and state or regional distributors. It is a proprietary mixture of more than 20 components from different groups – carrier material, growth precursors, polymers and fertilisers, all assisting plant growth processes in a synergistic way. Mixed with soil (or potting mix), it is activated by watering so the polymers absorb the water and nutrients/fertilisers over time. The growth precursors encourage root hair growth, with root hairs growing inside the polymers to absorb water and nutrient.
Formulations for different applications include Arbor (with extra humic acids), Turf (with humic acids and the volcanic mineral zeolite) and Universal (which can be followed up with applications of 'Complement').
The claimed benefits include faster and more successful plant establishment, better moisture retention and lower watering requirements.
Helping trees establish
There is always opportunity to improve on known principles with new materials or tools. Natural Growth Partners' Tree Coach™ attracted interest at the show. This is an integrated tree staking system made from post-industrial and recycled kerbside waste. It aims to assist the tree planting process, aid caliper and root development, and support tree trunk taper and canopy formation.
Tree CoachTM has flexible stakes that can be mechanically driven in, and a built-in water retaining basin to help effective watering. A lower (bottom) ring provides anchoring rigidity while allowing roots to develop naturally. The polymer stakes can flex in the wind promoting greater strength in the trunk and root system.
Wooden stakes might be discarded due to deterioration but the Tree CoachTM stakes and upper ring can be either recycled or re-used. Its flexible plastic stakes are also lighter to carry and easier to install while reducing injury risks during and after installation.
Helping save lives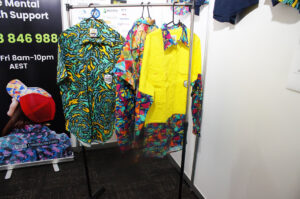 While on an injury theme, it is timely to spread the word about the TIACS Alliance (This Is A Conversation Starter Alliance). Not only over the last two years of pandemic, but also through a parallel period of business and financial stress, the mental health of many Australians has been severely challenged. This is as true for many business owners and managers, as for stressed employees and the unemployed. The landscaping and nursery sectors have not escaped the challenges.
The TIACS Alliance, founded by Dan Allen and Ed Ross of TradeMutt, funds a free mental health support service that has supported more than 8000 clients and provided more than $1.2 million in services since June 2020. Dan lost one of his best mates to suicide, so he and Ed wanted to change the landscape on how blue-collar industries perceived mental health. They saw just how many people were reaching out for support but didn't know how to navigate the mental health system so TIACS was created. It offers free, confidential and accessible counselling by phone or text, removing physical and financial barriers that can prevent people accessing the help they need and deserve. 54% of callers have never contacted a mental health service before. TIACS welcomes 'alliance support tiers' from $3750.
TIACS: 0488 846 988 www.tiacs.org
Help starts with a conversation. TradeMutt workwear helps start the conversation that "makes an invisible issue impossible to ignore". It certainly stood out at The Landscape Show, worn proudly by many TIACS staff and supporters. Dramatically patterned and panelled polo and work shirts, hi-vis tops and hoodies for all sexes and body types are available with 50% of profits donated to charity. Each piece of clothing is emblazoned with the 'TIACS' logo which, in addition to the eye-catching designs, help 'starts the conversation'.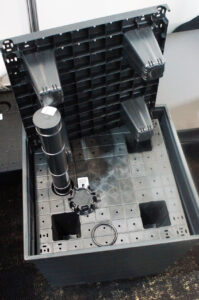 Helping save water
Self-constructed or rustic wicking beds and growing containers have become highly popular with home gardeners, especially through recent lockdowns and now as vegetable prices soar. Logically, a wide range of manufactured systems are appearing for commercial installations and domestic resale.
Melbourne-based Viking Plastics has tapped into the growing Water Sensitive Urban Design (WSUD) space and become a specialist manufacturer of rain gardens, wicking beds, planters and liners. It makes much use of Paneltim® light-weight 50mm twin-skin or sandwich-style construction panels. These provide longevity, rigidity and stability without the need for steel reinforcing. These planter boxes and liners are recyclable and can be subsequently repaired or modified (e.g., with spray nozzles or drainage).
The boxes or liners can be installed in architectural structures or clad in various cosmetic finishes such as timber or render. Their lighter weight and water-sealed properties give them advantages over concrete or stone structures for rooftop gardens and balconies.
Sydney-based Water Ups has positioned itself as 'leaders in wicking' with modular systems made from recycled plastic. Components and systems are available to suit all gardens ranging from private gardens to commercial nurseries and residential developments. At a new extreme, the company's wicking systems are also being trialled under sporting fields, giving natural turf a new way to face off against artificial surfaces.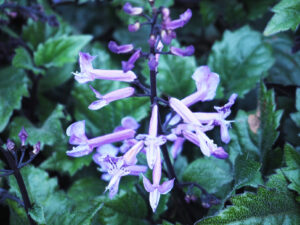 Greenlife
Greenlife suppliers were a growing presence at The Landscape Show 2022 with advanced trees and shrubs well represented, and Haars Nursery fielding a highly colourful display. Two lines that attracted the eye were Plectranthus saccatus 'Velvet Elvis'PBR (quick establishment, easy to grow – they even thrive in poor soils), and Ginkgo biloba 'Lemonlime Spire' PBR, a fast-growing and compact columnar (to 5m) form featuring lemon-yellow autumn colour following lime-green summer leaves. 'Lemonlime Spire' is a male clone that produces no smelly fruit and requires virtually no pruning.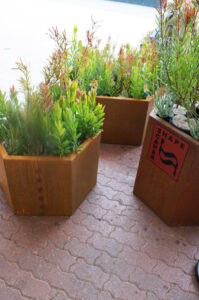 Showcasing greenlife
One of the first exhibits encountered on entering The Landscape Show was that of ShapeScaper, specialising in edging and planters of weathering and galvanised steel. These square, rectangular, circular and hexagonal planting boxes are popular with both landscape designers and DIY markets. This year, the concept's versatility was demonstrated by various combinations of open and closed circular planters (100-800mm diameter) creating 'raised ring' sets. These are ideal for accommodating, for example, feature trees or shrubs surrounded at lower levels by bedding plants or cascading groundcovers. A rounded top edge adds strength while preventing cuts and scrapes during planting or maintenance.
Main image: Ginkgo biloba 'Lemonlime Spire' (Image: PMA)