Challenge accepted : Managing growth in multiple growing businesses
By Andrea Caldecourt
Managing the demands of a horticulture business is challenging enough but what happens when you have multiple rapidly-growing businesses to manage, all with very different needs?
Multi-award-winning Sunshine Coast business Cedar Hill Group is the parent company to seven separate entities, each operating in discrete horticultural fields, from tissue culture and tubestock production, to cut flower export and online retail.
Their customers and products are all very different, yet all work harmoniously together, collaborating when beneficial, while running as independent units.
The oldest businesses in the group, operating for over thirty years, are those serving the floral design industry – Cedar Hill Flowers & Foliage (CHFF) and Premium Greens Australia (PGA).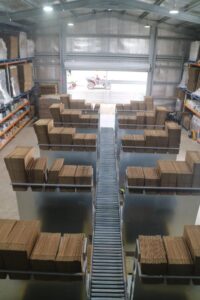 Native foliage is carefully harvested under licence from bushland locations right down the east coast of the country. CHFF's long-serving harvesters are scrupulous in harvesting, by hand, only what's needed, from areas where nature can regenerate.
Finding the plants, battling mudslides, avoiding wildlife, and keeping the foliage cool and hydrated are challenges in themselves!
This bush foliage is graded, treated, and packaged, ready for Premium Greens Australia to export overseas, ship to wholesale markets around Australia, or deliver direct to the florist door.
PGA's challenges are those presented by any ever-changing worldwide export market – global pandemics and financial crises, port blockades and airport strikes, unforeseen biosecurity issues, and extreme weather events impacting crops and flights.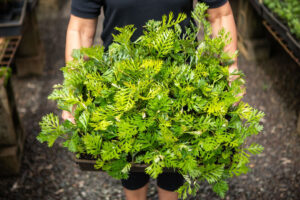 Added challenges are presented by the floral design industry itself. Flower and gifting trends worldwide are continually changing as fashions change and discretionary spend increases (or decreases) in each market.
Floristry is a very 'peaky' industry too; over 40% of annual sales can be won or lost on a single day's trading at Mother's Day and Valentine's Day. Get that wrong, and the business can take a big financial hit.
Commercially grown crops can be programmed and manipulated through light, temperature, and feeding regimes to be at their best within a certain timeframe. The wild-harvested products that Premium Greens Australia specialises in, are subject to the whims of Mother Nature.
Australian Plant Specialists (APS) produces over 700 lines of tubestock plants each year for a range of end users, from revegetation groups and local councils, to landscape gardeners and high-end retail nurseries.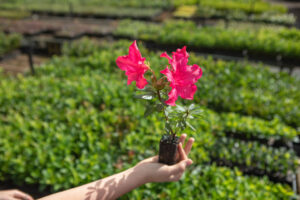 APS works with sister company VitroFlora, a tissue culture producer, to achieve this. VitroFlora's laboratories in Australia and overseas focus on production for revegetation and land restoration, for timber and forestry, for ornamentals, and edible crops.
The challenges here are longer term – adapting to the needs of contrasting customer types, forecasting future demands, providing optimal propagation conditions for all 700 exotic and native plants, and responding to changing tastes in gardens and public spaces.
Ten years ago, Cedar Hill Group decided to offer APS's affordable, portable tubestock plants to a wider market which previously could not access them – namely, home gardeners.
And, rather than compete with APS's trade customers, the company markets the tubestock direct, reaching gardeners from Port Hedland to Port Macquarie, Port Lincoln to Port Douglas. Some customers are old hands with a lifetime of experience, some are new to the hobby and keen to learn as much as possible.
During the pandemic, gardening suddenly became trendy (and a healthy way to occupy the boredom of home confinement). As sales doubled and tripled almost overnight, clear communication across all channels became increasingly important, telling customers what to expect, and when, and delivering on that.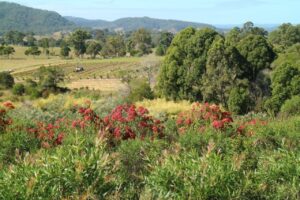 The success of this online business sparked Cedar Hill Group's latest venture, Australian Bouquet Company (ABC), a curated range of flower bouquets sent direct to the consumer.
APO's challenges of are those of managing growth – continually investing in new infrastructure, and production technology, maintaining steady supply chains and training specialised staff teams. When a company is growing 30% year on year for several years, that can be a wild ride!
Sustainability has become a buzzword for business in recent years, but for Cedar Hill Group it has always underpinned their activities.
CHFF harvesters work with local landowners and government bodies to preserve the integrity of wild bushland. PGA's packing facilities are powered by solar. APO's bespoke packaging is fully recyclable. APS nurseries are full of birdsong and butterflies, thanks to an emphasis on biological pest control.
Sustainability and adaptability – are just two of the ways that Cedar Hill Group's companies plan for a long future.
Cedar Hill Group
australianbouquetcompany.com.au
australianplantspecialists.com.au
Main image: Bush foliage doesn't grow in paddock rows (Image: CHFF/PGA)