Giving new life to some of WA's most endangered flora
By David Lullfitz
National Threatened Species Day is held in September each year and provides a fantastic opportunity to shine a spotlight on the importance of protecting some of our nation's rarest flora. This year, Plantrite used the day to launch a new initiative which will encourage Western Australians to roll up their sleeves and play a hands-on role in the conservation of endangered plant species.
The new project between Plantrite, charity Austem Foundation and the Botanic Gardens and Parks Authority, focuses on cultivating threatened West Australian plants so they can eventually be purchased by the public, and encourages our community to actively participate in conservation. The collaborative program aims to grow 10 to 15 plant varieties in its first year, with plans for them to be commercially available from mid-2022.
The initial focus of the project will be on a range of threatened WA plants that naturally occur in areas from Kalbarri down to Esperance. Many of these plants come from biodiversity hotspots in WA's South West and range from small flowering shrubs through to trees. Species likely to be grown first include a range of Darwinia, verticordia and grevilleas that are threatened in their natural habitat.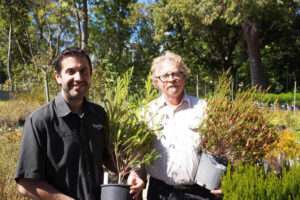 Some varieties such as the Mountain Bell (Darwinia meeboldii) may be known to the public, however, they are not commonly available and many people may not be aware how critically endangered they are.
Expert plant breeders from Kings Park will play a leading role in assisting propagation, lending expertise and providing plant propagation material.
The project team has identified priority species to focus on this season, with the list to expand by ten species annually in future years. This initiative is close to our hearts and by making cultivated plants available to the public, we hope conservation will permeate into the community.
We also hope it will educate and promote further discussion among Western Australians about the hundreds of plant species currently listed as threatened.
The aim of the initiative is to be a learning experience and to provide access to these plants. In turn they can grow them in their own gardens and actively join the conservation effort.
Plantrite Wholesale Native Nursery specialises in the propagation and growing of plants for revegetation and large landscape projects in Perth and regional WA. The nursery supplies more than three million native plants each year from its 20ha site in Bullsbrook, and has worked on projects including Optus Stadium, Gateway WA and Northlink WA.
Austem Foundation is a Victorian-based charity on a mission to establish the rightful place of native flora in the Australian home, garden and landscape. Austem works with commercial partners across Australia on a range of native plant innovation and breeding activities.
Botanic Gardens and Parks Authority (BGPA) manages Kings Park and Botanic Garden and Bold Park, two of Perth's most accessible and significant natural areas. Among its many roles is plant development to conserve, develop, manage and display flora collections. BGPA is part of the Department of Biodiversity, Conservation and Attractions.
Endangered plants planned for cultivation
Adenanthos cygnorum ssp. chamaephyton
Low spreading/ground covering plant
One of the 'woollybush' occurring naturally within the Perth region
Restricted to only very small populations, mainly in the Perth Hills
An ideal landscape plant or garden plant
Darwinia meeboldii
Common name – 'Cranbrook Bell'
Threatened flora, only small populations occur in the Stirling Range National Park
Multi-coloured bell flowering in spring, very ornamental
Could be grown successfully as a container/patio plant
Darwinia carnea
Common name – 'Mogumber Bell'
Threatened flora, only occurring in a few locations throughout WA
Unique green bell, flowers throughout spring
Low spreading shrub to 40cm high
Ideal garden plant
Eremophila serpens
Common name – 'Snake Eremophila'
Priority flora occurring naturally in the very eastern wheatbelt
Completely flat, ground covering plant
Can be used successfully as a landscape plant or garden plant
Grevillea saccata
Common name – 'Pouched Grevillea'
Occurs in limited areas on the northern sandplains
Fantastic low spreading shrub
Red flowers with bright yellow tips
Verticordia galeata
Occurs only within a handful of sites within the Kalbarri National Park
Rounded growing shrub that grows up to 1m
Covered with bright yellow flowers in spring.
Kennedia beckxiana
'Cape Arid Kennedia'
Priority flora, occurs only in Cape Arid National Park, east of Esperance
Hardy climbing plant, ideal for home gardens and commercial landscapes